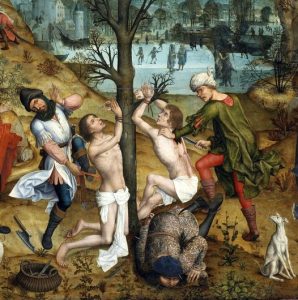 Happy St Crispin and St Crispinian Day!
In Tudor England, 25th October marked the feast day of Saints Crispin and Crispinian who were brothers (some say twins) and who were martyrs of the Early Church, being beheaded on 25 October 285 or 286 during the reign of Diocletian. Following the victory of England over France on 25 October 1415, at the Battle of Agincourt, the day became a celebration of that event too. Celebrations included bonfires, revelry and the crowning of a King Crispin.
St Crispin and St Crispinian are the patron saints of shoemakers, saddlers and tanners.
Tudor Society members can read about the feast days celebrated in the Tudor era in our Tudor Society e-book Tudor Feast Days.
(Picture: The Martyrdom of Crispin and Crispinian by Aert van den Bossche, 1494.)