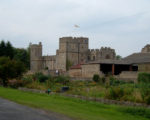 John Neville, the 3rd Baron Latimer, was born on 17th November 1493 and was the eldest son and heir of Richard Neville and his wife Anne, daughter of Sir Humphrey Stafford.
Although the Neville family was prominent in Tudor England, little is known about Neville's early life, but we know that by 1520, he was married to Dorothy, daughter of Sir George de Vere, 14th Earl of Oxford. However, sadly she died seven years after the marriage, in 1527, and by 20th June 1528, John had married Elizabeth, daughter of Sir Edward Musgrave. Sadly, Elizabeth also died, however, we do not know in which year.
John Neville married his third and final wife, Katherine Parr, in the summer of 1534. Katherine Parr was the daughter of Sir Thomas Parr of Kendal, and she had been married previously to Sir Edward Borough.
[Read More...]