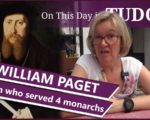 On this day in Tudor history, 9th or 10th June 1563, William Paget, 1st Baron Paget, diplomat and administrator, died, probably at his estate of West Drayton in Middlesex.
By his death, he'd served four Tudor monarchs and even though he'd fallen from favour and been imprisoned, he kept his head and climbed back in favour.
But who was Baron Paget? Well, let me give you a few facts about this Tudor man.
[Read More...]