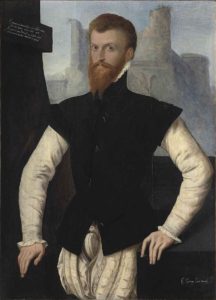 Edward Courtenay, 1st Earl of Devon, was the second and only surviving son of Henry Courtenay, Marquess of Exeter, and his second wife, Gertrude (née Blount).
Little is known about his early life, but we know that he spent some of his early childhood in the household of Mary Tudor. Dowager Queen of France. After she died in 1533, however, he returned to his family and received tuition from Robert Taylor. When his father fell afoul of King Henry VIII for his support of Katherine of Aragon and his correspondence with the Poles, Edward, aged twelve, was sent alongside his parents to the Tower of London and imprisoned. Edward's father was executed on 9th December 1538, and his mother was released after eighteen months of imprisonment.
When his mother was released, Edward was not released alongside her and instead remained a prisoner. He was sent a monthly sum of £4, and arrangements were made to ensure he had continued tuition. Edward remained a prisoner for the next 15 years of his life until the accession of Mary I. As his mother and father had been supporters and friends of Katherine of Aragon and Mary, Mary ensured that Edward was released on her entry into London on 3rd August 1553. Following his release, Edward enjoyed considerable favour from Mary, and he was created the Earl of Devon on 3rd September that same year and was made a Knight of the Bath on 29th September. His inheritance, damaged by his father's execution, was also largely restored by Mary as he received large grants of lands. Rumours were also rife that he would be made Duke of York.
His return to public life was greeted with praise, and he was initially viewed by his contemporaries in a positive light. Edward was praised for his civility and his intellect and musical abilities, with Reginald Pole hailing him as the "flower of English nobility." His popularity can be attested by the fact he bore the sword of state at the coronation of Mary I on 1st October. His status as the Earl of Devon further propelled his popularity, and he became an obvious candidate for those who wished Mary would avoid a Spanish match. While imprisoned, Edward befriended Stephen Gardiner, the new Lord Chancellor, and as such, Stephen Gardiner attempted to promote and support the match between Edward and Mary. Mary, however, had no intention of marrying Edward and soon became suspicious of him. It was reported that soon after his release and reversal of fortune that Edward became arrogant and cavorted with the wrong people. When Mary pledged herself to Philip of Spain, conspiracies against the foreign match began involving Sir Thomas Wyatt, Sir Peter Carew and the Duke of Suffolk, who stirred up rebellion in the west, Devon's sphere of influence, and soon there was talk of replacing Mary with Elizabeth and having her marry Edward.
The extent of Edward's involvement in the plot is unclear. But the idea of marriage between himself and Elizabeth began to gain traction at court, and Edward himself interacted with Wyatt through Sir Edward Rogers, who acted as an intermediary between the two men. Even if he did not have a large role in the conspiracy, his communication with the rebels had seriously damaged his reputation. When the government got wind of the plot, the rebels were forced to act sooner than they would have liked. When Wyatt was defeated, Edward suddenly found himself in the spotlight when Wyatt named him as a co-conspirator under interrogation. Edward was once again imprisoned in the Tower of London; however, he staunchly maintained his innocence. On 11th April, the day of Wyatt's execution, the two men shared an exchange, the contents of which are disputed. The sheriffs present at the interview stated that Wyatt asked Edward's forgiveness for falsely implicating him in the plot, and when he was on the scaffold, Wyatt publicly exonerated Elizabeth and Edward. Following this, Edward was moved from the Tower to Fotheringhay on 25th May.
Edward's second imprisonment was much shorter than the first, and he was released on 6th April 1555. He was sent overseas to Brussels from 17th May but was keen to travel to Venice. This was in part due to the tensions between members of his household and Spaniards, which led Edward to believe these scuffles had been encouraged by the authorities. This wasn't just paranoia on Edward's behalf. It transpires that in October 1555, a plot had been hatched by Ruy Gomez, Philip's advisor, which sought to have Edward assassinated. The plot failed because the hired assassin defected to the Venetian authorities. While Edward was in Italy, he enrolled at the University of Padua and attempted to continue his education. However, he once again embroiled himself in scheming.
He became involved with Sir Henry Dudley, who was plotting to murder the queen and once again replace her with Elizabeth and Edward. In March of 1556, he consorted with the Duke of Ferrara, who attempted to persuade him to join Dudley openly. Although he didn't commit to the cause publicly, his association with these men all but confirmed his support of their plots. However, before anything could come to fruition, Edward died of a fever in Padua on 18th September 1556. It was believed he was poisoned, but this is primarily conjecture born out of the prior assassination attempt. It was a tragic death for a man who spent so much of his life in prison, but his imprisonment had rendered him unable to cope and manage the political machinations of the time, and his involvement in conspiracies indicates this. He is buried in the church of Sant'Antonio in Padua.
by Georgia Whitehead
Georgia has just finished her masters in Classics at the University of Edinburgh. Academically, Georgia is interested in early Christianity, with her master's thesis focusing on "The Male Gaze and Self-Representation in Female Christian Narratives". In addition to her interest in ancient history, she has always been an avid lover of the Tudor era, drawn to the magnificence of the Tudor courts and the larger than life characters. She is particularly interested in The Reformation, Christianity and the shifting sands of ecclesiastical politics in this period and also has a keen interest in the lives of Tudor women. It is Georgia's ambition to become a writer, perhaps publishing her own Tudor novel one day.
Georgia also runs a history blog and instagram page called Historia Mundis.
Bibliography
The Shadow of the White Rose, Edward Courtenay, Earl of Devon 1526–1556. James D. Taylor Jr., Algora publishing 2006.
Courtenay, Edward, first earl of Devon (1526–1556) Ian W. Archer (2004) https://doi.org/10.1093/ref:odnb/6449