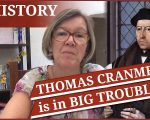 On this day in Tudor history, Thursday 12th September 1555, in the reign of Catholic Queen Mary, the trial of Thomas Cranmer, Archbishop of Canterbury, began in Oxford.
Archbishop Cranmer, who had, of course, played his part in the annulment of Mary I's parents' marriage (King Henry VIII and Queen Catherine of Aragon) was accused of heresy. Cranmer, however, did not recognise the authority of the court. His intelligent answers to his accusers were to do no good, and he became one of the famous Oxford Martyrs in 1556.
Find out more about what happened at his trial, and what happened next, in this talk.
[Read More...]