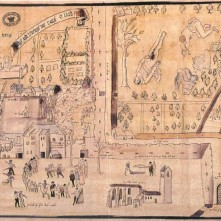 On this day in history, the 10th February 1567, Henry Stuart, Lord Darnley was murdered at Kirk o' Field, Edinburgh, in the Royal Mile, just a few hundred yards from Holyrood House where his wife, Mary Queen of Scots, and baby son, the future James VI/I, were staying.
Henry, Lord Darnley, had been lodging at Kirk o' Field while convalescing after contracting either syphilis or smallpox. What he didn't know was that while he had been recovering his enemies had been filling the cellars of the house with gunpowder.
Also, on this day in history, 10th February 1542, Queen Catherine Howard was taken from Syon House, where she'd been kept since November 1541, to the Tower of London in preparation for her execution. Click here to read an article on this over at The Anne Boleyn Files.