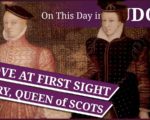 Well, ok, perhaps love at second or third sight!
On this day in Tudor history, Saturday 17th February 1565, Mary, Queen of Scots, met and fell in love with Henry Stuart, Lord Darnley, at Wemyss Castle in Scotland. Just over 7 months later, the couple got married.
Find out more about the background of this meeting between Mary, Queen of Scots and Lord Darnley, Mary's thoughts on Darnley, and what happened next, in today's talk.
[Read More...]