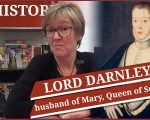 Today, 7th December, is the traditional date given for the birth of Henry Stuart (Stewart), Duke of Albany and Lord Darnley, in 1545.
Lord Darnley was the son of Margaret Douglas and grandson of Margaret Tudor, Queen of Scotland, and her second husband, Archibald Douglas, 6th Earl of Angus, but he is more known as the second husband of Mary, Queen of Scots.
Find out about Lord Darnley's rather colourful life, his unhappy marriage, his role in a murder, AND his own sticky end, in today's talk.
[Read More...]