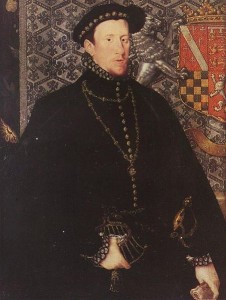 On this day in history, 2nd June 1572, Thomas Howard, 4th Duke of Norfolk, was executed on Tower Hill for treason. His remains were buried in the Chapel of St Peter ad Vincula at the Tower of London.
Thomas was the eldest son of Henry Howard, Earl of Surrey, and his wife, Frances de Vere, and he was born on 10th March 1538 at Kenninghall. His father was executed in January 1547 so his aunt, Mary Fitzroy, Duchess of Richmond, was in charge of his early upbringing. His tutors included Hadrianus Junius, the martyrologist John Foxe and Bishop John White. When he was 15 years of age, in September 1553, he was made a Knight of the Bath by Mary I and he helped his grandfather, Thomas Howard, 3rd Duke of Norfolk, Earl Marshal and Lord High Steward, officiate at the queen's coronation and coronation banquet in October 1553.
In July 1554, Thomas was appointed as first gentleman of the chamber to Philip of Spain, Mary I's new husband. He became the Duke of Norfolk following the death of his grandfather on 25th August 1554 and also inherited his grandfather's office of Earl Marshal. In 1555 he married Mary Fitzalan, daughter and heir of Henry Fitzalan, 12th Earl of Arundel. During Mary I's reign, he was rewarded with offices including High Steward of Cambridge and Great Yarmouth, and Lord Lieutenant of Norfolk and Suffolk. His wife, Mary, died on 25th August 1557, having given birth to a son, Philip, on 28th June 1557. Thomas went on to marry his cousin, Margaret Dudley, widow of Lord Henry Dudley and heir of Thomas, Lord Audley of Walden, shortly after the accession of Elizabeth I in 1558.
As Earl Marshal of England, Thomas presided over Mary I's funeral in 1558 and Elizabeth I's coronation in January 1559. He was elected as a Knight of the Garter in 1559 and was installed as a Knight of St Michael, the French chivalric order, in 1566.
In December 1561, Thomas was admitted to Gray's Inn and he received an MA from the University of Cambridge in 1564 and Oxford in 1568.
Thomas was an important man. Not only was he the premier peer of England at this time but his biographer, Michael A. R. Graves, also describes him as "a regional prince", with his power and status in Norfolk. As well as owning Kenninghall and other Howard homes, Thomas bought the former London Charterhouse from Lord North in 1564 and set about enlarging it and refurbishing it. He renamed it Howard House. His second wife, Margaret, died on 10th January 1564, a few weeks after giving birth to their fifth child. Thomas married Elizabeth Leybourne, widow of Thomas, Lord Dacre of Gilsland, on 29th January 1567 but Elizabeth died in childbirth later that year. Thomas was able to obtain the wardship of his stepchildren, who were heirs to the Dacre estate in the north of England.
In the 1560s, he fell out with Robert Dudley, Queen Elizabeth I's favourite, due to Thomas's support of Archduke Charles of Austria as a potential husband for the queen. They came into conflict again in 1566-7 in Parliament over the succession, with Thomas favouring Lady Katherine Grey and Dudley favouring Mary, Queen of Scots. In 1564, Thomas's name was put forward by Queen Elizabeth I as a potential husband for Mary, Queen of Scots, along with Robert Dudley and Lord Darnley.
In 1568, the deposed Mary, Queen of Scots, fled to England. By this time, Lady Katherine Grey was dead and her sister, Mary, disgraced, so Mary, Queen of Scots, could be seen as a viable successor to the throne. Thomas was one of the men sent to York in October 1568 to investigate the Scottish queen and the claims of the Scots against her. While he was in York, Thomas spent time with the Scots politician William Maitland of Lethington, who was acting as a commissioner for the Earl of Moray, the Regent of Scotland. Maitland resurrected the idea that Mary, Queen of Scots, could marry Thomas. Obviously, this was not a new idea, but, as Michael A. R. Graves points out, things were very different now: "Mary was a deposed monarch, accused of murder and adultery, and Elizabeth was not consulted." Thomas obviously liked the idea as he saw Mary as Elizabeth's successor and he would obviously be her consort. Elizabeth would need to consent though. Unfortunately, Thomas did not talk to the queen and it was Robert Dudley who told her. Elizabeth was furious with this scheming behind her back and he was sent away from the court, which was on progress.
Elizabeth then realised that sending him away from court might not be the best idea as the northern earls might rally to his cause. She, therefore, ordered him back to court on 22nd September 1569. Thomas, fearing imprisonment if he returned, fled to his home of Kenninghall, pleading illness but saying that he would return to court shortly, and, from there, wrote to the queen pleading his case. He also sent a message to the northern earls pleading with them not to rebel.
On 2nd October 1569, his return to court, which was at St Albans by then, Thomas was apprehended and taken to the Tower of London. Not long after, the northern earls did in fact rise in a rebellion known as the Rising of the North. They were led by Charles Neville, 6th Earl of Westmorland, and Thomas Percy, 7th Earl of Northumberland, and the aim of these Catholic lords was to depose Elizabeth I and replace her with Mary, Queen of Scots. The rising failed and Thomas wrote to the queen vowing that he had had nothing to do with the rising. However, he was secretly corresponding with Mary, Queen of Scots, in cipher. Michael A. R. Graves points out that while he was sending her rings at midsummer 1570, "he was allowed to draft a voluntary written submission in which he acknowledged his error, craved the queen's forgiveness, and bound himself by his bond of allegiance to her 'never to deale in that Cause of Mariage of the Quene of Scottes, nor in any other Cause belonginge to her, but as your Majestie shall commaund me'". On 3rd August 1570, he was released from the Tower into what Graves describes as "virtual house arrest" at his home of Howard House in London.
Thomas Howard's undoing was the Ridolfi Plot of 1571. The aim of the plot was to assassinate Elizabeth I and replace her with Mary, Queen of Scots, who was to be married to Thomas. The plot took its name from Roberto Ridolfi, a Florentine banker, who was a papal agent, a go-between for the Spanish and the Duke of Norfolk, and the man responsible for funding the rebellion which would see a Northern Catholic rebellion and an invasion by the Spanish under Philip of Spain. Elizabeth I's secret service, headed by her spymaster Sir Francis Walsingham, uncovered the plot and it collapsed. Thomas's servants were interrogated and they confessed to his involvement. When the queen's warrant for his arrest arrived on 7th September, Thomas admitted to corresponding with Mary's supporters and sending money. He was taken to the Tower where he and his servants continued to be interrogated and where confessions were made.
In December 1571, Thomas was charged with "having conspired and imagined to deprive the queen of her crown and dignity, and compassed to excite sedition, to cause great slaughter amongst the queen's lieges, to levy war and rebellion against the queen, to subvert the government, to change and alter the pure religion established in the kingdom, and to bring in strangers and aliens to invade the realm, and to carry on a bitter war against the queen." He was tried on three counts of treason on 16th January 1572 by a jury of his peers at Westminster Hall. You can read a detailed record of his trial in A complete collection of state-trials and proceedings for high-treason: and other crimes and misdemeanors; from the reign of King Richard II. to the reign of King George II. which can be read online at https://archive.org/. Thomas pleaded "not guilty" of high treason but he was eventually found guilty and condemned to death.
The queen was reluctant to execute the highest peer of her realm but parliament put pressure on her to deal with him, and he was beheaded on Tower Hill on 2nd June 1572. He was accompanied to the scaffold by Alexander Nowell, Dean of St Paul's, and his former tutor, martyrologist John Foxe, and in a speech to those gathered he maintained his innocence and told of "how gratiously he is bounde to the Queen's Majestie for the mercie which of her self she hath shewed [and] wissheth her long continuance to the maintenance of religion".
His resting place at the Chapel of St Peter ad Vincula at the Tower of London can be visited today, as can London Charterhouse, the home he called Howard House.
Further reading about the Howards:
Notes and Sources
Graves, Michael A. R.. "Howard, Thomas, fourth duke of Norfolk (1538–1572)." Michael A. R. Graves In Oxford Dictionary of National Biography, edited by H. C. G. Matthew and Brian Harrison. Oxford: OUP, 2004. Online ed., edited by David Cannadine, January 2008.
Thomas Howard, 4th Duke of Norfolk by Anniina Jokinen, 2009, http://www.luminarium.org/encyclopedia/norfolk4.htm.