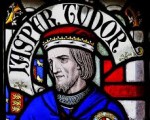 17th December:
1538 – Pope Paul III announced the excommunication of Henry VIII.
1550 – Birth of Henry Cavendish, soldier, traveller and son of Bess of Hardwick and Sir William Cavendish. He was married to Grace Talbot, daughter of George Talbot, 6th Earl of Shrewsbury. This match was arranged by his mother who had married the Earl of Shrewsbury.
1559 – Matthew Parker was consecrated as Elizabeth I's Archbishop of Canterbury. According to "The Correspondence of Matthew Parker", Anne Boleyn charged him with the care of Elizabeth when she saw him in April 1536, "not six days before her apprehension". Historian Eric Ives writes that this was a request that Parker never forgot, and something which stayed with him for ever. Parker obviously came to be important to Elizabeth, because she made him her Archbishop of Canterbury in 1559. It was a post which Parker admitted to Lord Burghley, he would not have accepted if he "had not been so much bound to the mother". Parker was Archbishop until his death in 1575.
[Read More...]