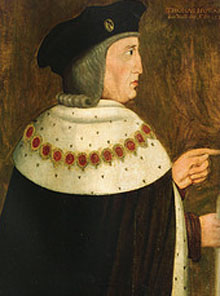 Thomas Howard was a politician, English nobleman and lived to a ripe old age of 81! For someone who spent a lot of time in the English court, he also had very stable connections which kept him in his position, especially since he was the grandfather of two queens of England, Anne Boleyn and Catherine Howard, making him the great-grandfather to Queen Elizabeth I. Serving four monarchs as both statesmen and solider, who was Thomas Howard, 2nd Duke of Norfolk, Earl of Surrey?
Thomas Howard was born in 1443; he was the only son of Sir John Howard and Catherine Howard, daughter of Lord William Moleyns. Having been educated in Thetford school as he got older Surrey started a career as a henchman in court. In the service of Edward IV, Thomas, who was still a young man, took the king's side when war began in 1469 and having taken the Kings side took sanctuary in 1470 when the king fled to Holland. After he sustained an injury in 1471, he was appointed as a knight in 1478 at the marriage of the king's son. In the same year, he was appointed as a Knight of the Garter and became appointed to the privy council.
When the king passed away in 1483, Surrey and his father supported Richard III's claim to the throne, and during the Battle of Bosworth they both wholeheartedly stayed close to the king. Surrey was however injured pretty badly, and his father was unfortunately killed, this led to him being taken prisoner in the Tower for 3 and a half years, on as little as £2 a week to pay for his room within the tower. When the Earl of Lincoln invaded England in 1487, he practically offered Surrey a way out, opening the gate for him and telling him to walk free; Surrey did not. This proved to Henry VII that he could be trusted and perhaps made into an official, so in 1489 he was released and restored.
Under Henry VII, Surrey was made the Lieutenant-General of the North. He acted in this role until 1499 and in June 1501 he was appointed to serve as Lord High Treasurer alongside Bishop Richard Foxe, the Lord Privy Seal, and Archbishop William Warham. These men all together became the king's main advisors at court.
Upon the death of Henry VII in 1509, Surrey acted as the executor of the king's will, Surrey's age, position and experience made him the most important member of the privy council. He knew how things were run and how things were done, he was very influential. It is then no surprise that Surrey played a huge role at Henry VIII's coronation, where we had the role of Earl Marshal. However, in Henry VIII's reign, he was not the king's most trusted advisor, that was a role taken up by Thomas Wolsey, something Surrey was extremely bitter about. He thought that Wolsey would be leading the king down the wrong path, encouraging him to lead an extravagant life and throwing away everything his father worked hard to keep together.
Henry VIII knew the importance of keeping everyone at court happy, happy enough to serve him to the best of their abilities. But, when Henry went out to lead his army into France in 1513, Surrey was left behind in the North to carry out his duty there. Surrey was victorious against the invading Scottish forces at the Battle of Flodden on 9th September 1513, displaying his nature and mentality for battle. In 1514, he was created Duke of Norfolk with a form of insurance of £40 a year from the counties of Norfolk and Suffolk, his son was then made Earl of Surrey.
In 1514, he helped Wolsey and Foxe arrange the marriage of Henry's sister Mary Tudor to King Louis XII of France and he escorted Mary on her voyage to France.
In 1521, Norfolk was made Lord High Steward for the trial of Edward Stafford, Duke of Buckingham. Surrey and Buckingham were good friends and Buckingham was also Norfolk.s daughter-in-law's father, so to have to serve as Lord High Steward for this case of treason must have been truly heartbreaking for him. It was said that Norfolk "pronounced the sentence of death with tears streaming down his face".
Following this case, Norfolk retired from public life and his title of Lord High Treasurer in 1522. He died on 21st May 1524 at Framlingham Castle, a natural death in what was an incredibly turbulent time in England for those close to the throne.
In 1533, Henry VIII married Norfolk's granddaughter Anne Boleyn and in 1540 he married another of Norfolk's granddaughters, Catherine Howard. In 1558, Norfolk's great-granddaughter, by Anne Boleyn, became Queen Elizabeth I and ruled for over 44 years.
Charlotte Donovan is a 23-year-old, recent BA Hons History Graduate from the University of Hull. Her favourite time period in History is the Tudor period and she has a huge love/interest for Anne Boleyn, Henry VIII and the people of the Tudor court. Charlotte is a writer who is currently halfway through writing her first book which is to be published in July 2018. She lives in Hartlepool with her partner where she works at the local college as a Learning Support Assistant, she loves to read/write and also watch TV dramatisations and documentaries of her favourite time periods within history.
Sources