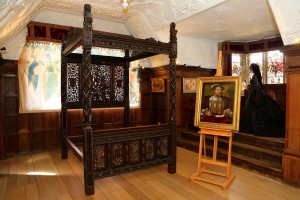 From now until 22nd November 2015, Hever Castle is exhibiting a late medieval bed believed to have been the marriage bed of King Henry VII and Elizabeth of York. It is on loan from the Langley Collection.
Extensive research has been done regarding the provenance of the bed, including DNA testing of the timber. You can read more about the bed and the research at the following links:
Also in The Bed of Roses exhibition is a newly purchased 16th Century replica of a painting of Henry VIII by Joos van Cleve. Go to www.hevercastle.co.uk/ to find out more about the castle and visiting it.