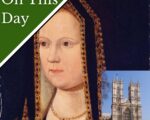 On this day in Tudor history, 23rd February 1503, Elizabeth of York, Queen Consort of Henry VII and mother of Henry VIII, was laid to rest at Westminster Abbey.
Elizabeth had died on her 37th birthday, on 11th February, at the Tower of London, nine days after giving birth to a daughter, Katherine, who also died.
In "The Last Medieval Queens: English Queenship 1445-1503", J L Laynesmith writes of how at least £3,000 was spent on Elizabeth's funeral, compared to the £600 spent on that of Arthur, Prince of Wales, the previous year, and that "the whole process was rich with references to the queen's coronation".
[Read More...]