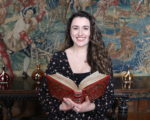 Thank you so much to Kate McCaffrey for sharing this guest article with us today. Kate has been in the news recently because of her discovery of previously hidden inscriptions in one of Anne Boleyn's Books of Hours at Hever Castle – a wonderful discovery.
Do follow the link at the end of this post to read Kate's guest article on the Anne Boleyn Files too.
Over to Kate…
Catherine of Aragon and Anne Boleyn. Two queens, two wives, two rivals. They are both highly recognisable leading women from sixteenth-century England, but are also famed rivals in love and power. At best, we consider them to have had a fraught, divisive relationship. In today's society, as is so often the case, we frequently see them as two women pitted against each other: one 'good', one 'bad', one Catholic, one Reformist, one wife, one mistress. Certainly, they were rivals and had many differing opinions and standpoints, but they also had key qualities in common. They were both highly educated, pious women who were at the whims of their changeable husband and who, in their own ways, were victims of patriarchal circumstance.
[Read More...]