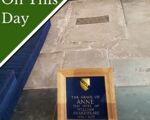 On this day in history, 6th August 1623, Anne Hathaway, wife of William Shakespeare, died.
Anne married Shakespeare in 1582 when she was pregnant with their first child. They had three children, Susanna, and twins, Judith and Hamnet. Hamnet died young.
Anne was buried next to Shakespeare at Holy Trinity Church.
[Read More...]