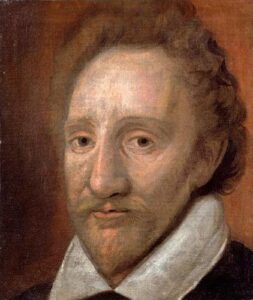 On this day in Tudor history, 13th March 1619, actor and star of Shakespeare's Lord Chamberlain's Men and the King's Men, Richard Burbage, died aged fifty.
Burbage performed with William Shakespeare and is named in Shakespeare's will of 1616 as a "fellow", meaning a close friend or colleague.
Let me give you a few facts about this Elizabethan actor…
We don't know Richard Burbage's date of birth, but he was baptised at St Stephen's Church in Coleman Street in London on 7th July 1568, and baptisms were usually done a few days after birth. He was the son of James Burbage and his wife, Ellen Brayne.
In 1576, Richard's father, James, also an actor, opened a theatre just outside the north wall of the City of London in Shoreditch. It was called The Theatre.
It is believed that Richard began his own acting career at the age of 16 in 1584, the same year that Henry Carey, Lord Hunsdon, became patron to his father.
In 1590/1, Richard was listed as playing two main parts in a play called "The Seven Deadly Sins" performed by Lord Strange's company
In 1594, Richard also came under the patronage of Lord Hunsdon, who was now Lord Chamberlain to Elizabeth I. Richard was the leading actor of Hunsdon's company, the Lord Chamberlain's Men, based at Richard's father's Theatre in Shoreditch.
In the 1570s Lord Leycester's Men, led by James Burbage, visited Stratford-upon-Avon, so William Shakespeare may well have seen and met the Burbages then. Shakespeare arrived in London in the late 1580s and lodged in Shoreditch, and soon a friendship was forged between the Shakespeare and Richard. In his will of 1616, Shakespeare named only three men, referring to them as "fellows", which meant a good friend or colleague, and one of those fellows was Richard Burbage.
The Lord Chamberlain's Men, including Richard and Shakespeare, played two comedies over the Christmas period of 1594/5 at the royal court at Greenwich, and in 1598, the two men acted in Ben Jonson's Every Man in His Humour in autumn 1598.
In 1596, following problems with the lease for the Shoreditch Theatre, the Burbages moved to Blackfriars and James and Richard's brother Cuthbert began work on a building there to make it a roofed playhouse for all-year-round entertainment, probably helped by Peter Street. The Shoreditch one had been open-air. Sadly, though, James died in 1597, leaving the theatre unfinished. There was also opposition to the Blackfriars theatre from local residents, so the project came to an end. Richard and Cuthbert rented the Curtain Theatre in Shoreditch for a time before embarking on a project on Bankside in Southwark with Peter Street, using materials from the former Shoreditch Theatre. This became the Globe Theatre.
One of the first plays to be performed by the Lord Chamberlain's Men at the Globe was Jonson's Every man in His Humour in autumn 1599, with Richard playing a leading part.
Richard married Winifred Turner, sometime before autumn 1601, and the couple had eight children together. Sadly, one one, Willam probably named after Shakespeare, survived childhood.
In May 1603, following the accession of King James I, the former Lord Chamberlain's Men company of players became the King's Men. Its members included both Richard and Shakespeare.
In late 1612 early 1613, the company gave twenty performances at court, and eight of them were written by Shakespeare
In 1613, a fire broke out during a performance of Shakespeare's Henry VIII at the Globe and the theatre burned to the ground. It was, however, rebuilt a year later.
In 1614, the company performed John Webster's The Duchess of Malfi at Blackfriars and then at the Globe, with Richard playing Ferdinand.
On Saturday 13th March 1619, Richard Burbage died. He was fifty years old. He was buried on the 16th March at St Leonard's Shoreditch. His wife, Winifred, went on to marry a Richard Robinson in 1622, and she died in 1642. Richard and Winifred's surviving son, William, is last mentioned in the records in 1647 in a land sale.
Here is "A Funerall Elegye on the Death of the famous Actor Richard Burbage who died on Saturday in Lent 13 March 1619" by an anonymous poet:
He's gone and with him what a world are dead.
Which he review'd, to be revived so,
No more young Hamlet, old Hieronimo
Kind Lear, the Grieved Moor, and more beside,
That lived in him have now forever died.
and playwright Thomas Middleton wrote:
"Astronomers and Stargazers this year
Write but of four eclipses, five appear,
Death interposing Burbage and there staying,
Hath made a visible eclipse of playing."
Also on this day in Tudor history...
Image: A portrait of Richard Burbage, Dulwich Picture Gallery, London.