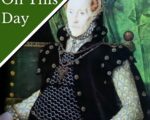 On this day in Tudor history, 25th August 1526, in the reign of King Henry VIII, Mildred Cecil (née Cooke), Lady Burghley, was born.
Mildred was the daughter of Sir Anthony Cooke, a scholar and the man who became Edward VI's tutor, and his wife, Anne Fitzwilliam. Cooke educated his daughter himself, at home, providing her with the classical education usually reserved for boys.
Mildred is known not only for being the second wife of William Cecil, 1st Baron Burghley and Elizabeth I's trusted minister, but for her humanist education, intelligence and fluency in Greek and Latin. Mildred also translated several works, including a Greek sermon by Basil the Great.
[Read More...]