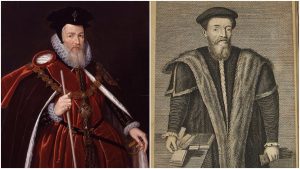 On this day in history, 13th September 1520, William Cecil, 1st Baron Burghley and Elizabeth I's chief advisor, was born Bourne in Lincolnshire. He was the son of Richard Cecil, former Groom of the Robes, Constable of Warwick Castle and High Sheriff of Rutland, and his wife Jane Heckington. His grandfather, David Cecil, had been one of Henry VIII's favourites, and was High Sheriff of Nottingham.
Click here to read the bio or factfile of William Cecil that I published on the Tudor Society on the anniversary of his death.
Today is also the anniversary of death of Sir John Cheke, Tudor scholar, one-time tutor to Edward VI, Secretary of State for Lady Jane Grey and the first Regius Professor of Greek at Cambridge University. He died on 13th September 1557 at the home of his friend, Peter Osborne, in Wood Street, London, probably from influenza, and was buried nearby at the church of St Alban, Wood Street, in the north chapel of the chancel. Click here to read the biography of John Cheke that I wrote on the anniversary of his birth.
Today is also the anniversary of the birth of John Leland, poet and antiquary, in London on 13th September c. 1503. I've written an article on his link to Queen Anne Boleyn over at The Anne Boleyn Files - click here to read that now.