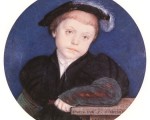 On this day…
18th September:
1501 – Birth of Henry Stafford, 10th Baron Stafford, at Penshurst in Kent. He was the son of Edward Stafford, 3rd Duke of Buckingham, and his wife Eleanor (née Percy), daughter of Henry Percy, 4th Earl of Northumberland. Henry married Ursula Pole, daughter of Sir Richard Pole and Margaret Pole, Countess of Salisbury, in 1519, and the couple had around fourteen children. Stafford served Mary I as a Chamberlain of the Exchequer and Elizabeth I as a Lord Lieutenant of Staffordshire.
1535 – Birth of Henry Brandon, son of Charles Brandon, Duke of Suffolk, and his wife Katherine (née Willoughby). Henry Brandon died on 14th July 1551, at the age of fifteen, from sweating sickness. His younger brother, Charles, survived him by just half an hour.
1544 – Henry VIII rode triumphantly through the streets of Boulogne after the French surrendered, ending the Siege of Boulogne.
1556 – Death of Edward Courtenay, 1st Earl of Devon, from a fever at Padua in Italy. He was buried there in the church of Sant'Antonio. Courtenay had been sent overseas after he was implicated in Wyatt's Rebellion as a future husband and consort of Mary I's half-sister, Elizabeth.
1559 – The fifteen-year-old Francis II was crowned King of France at Rheims by the Cardinal of Lorraine, following the death of his father Henry II in July 1559 after a jousting accident. Mary, Queen of Scots was Francis' consort.
[Read More...]