7 August
1485 – Henry Tudor (future Henry VII) dropped anchor at Mill Bay, Milford Haven, Wales. He had returned from exile to claim the crown of England. Click here to read more.
1514 – Peace treaty signed between England and France, arranging the marriage of the widowed fifty-two-year-old Louis XII of France and the eighteen-year-old Princess Mary Tudor, sister of Henry VIII.
1541 – Death of Sir Richard Weston, courtier and father of Sir Francis Weston who was executed in 1536 for alleged adultery with Queen Anne Boleyn. Richard served Henry VII as Groom of the Chamber and Henry VIII as an Esquire of the Body, Governor of Guernsey and treasurer of Calais. He was buried in Holy Trinity Church, Guildford.
1549 – The five-year-old Mary, Queen of Scots set sail from Dumbarton, Scotland, for France. A marriage had been agreed between Mary and Francis, the Dauphin, so Mary was going to be brought up at the French court. Mary arrived at Saint-Pol-de-Léon, near Roscoff in Brittany, just over a week later.
1574 - Sir Robert Dudley, mariner, cartographer and landowner, was born on this day in 1574 at Sheen House, Richmond. He was the illegitimate son of Robert Dudley, Earl of Leicester and favourite of Elizabeth I, and his lover Lady Douglas Sheffield, daughter of William Howard, 1st Baron Howard of Effingham, and widow of John Sheffield, 2nd Baron Sheffield.
1600 – Burial of Sir Thomas Lucy in the parish church at Charlecote, Warwickshire. Lucy was a magistrate and member of Parliament, but is best known for his links with William Shakespeare. Tradition has it that Shakespeare wrote a satirical ballad about Lucy, or he made a caricature of him in the character of Judge Shallow, as revenge after he was judged too harshly for poaching on Lucy's estate, Charlecote Park. There is no evidence to support this story.
1613 – Death of Sir Thomas Fleming, Solicitor-General to Elizabeth I and James I, at Stoneham Park. He also served James I as Chief Justice of the King's Bench. He was buried at North Stoneham Church.
8 August
1503 – The formal wedding of Margaret Tudor and James IV of Scotland in the chapel of Holyroodhouse. The couple had been married by proxy on 15th January 1503 with Patrick Hepburn, the Earl of Bothwell and Lord High Admiral of Scotland, standing in for James. Bothwell was the great-grandfather of James Hepburn, 4th Earl of Bothwell, husband of Mary, Queen of Scots.
1553 – Burial of Edward VI in a white marble vault beneath the altar of Henry VII's Lady Chapel in Westminster Abbey. His grave was unmarked until a memorial stone was placed in front of the altar in 1966. The funeral service was performed by Thomas Cranmer, in keeping with Edward VI's Protestant faith, so Mary I attended a private mass for her half-brother's soul in the Tower of London.
1558 – Birth of George Clifford, 3rd Earl of Cumberland, courtier and privateer, at Brougham Castle, Westmorland. Elizabeth I nicknamed Cumberland her "rogue", and he was her Champion from 1590 until her death.
1560 – Death of William May, Archbishop-elect of York, in London. He died on the day that he was elected Archbishop.
1570 – Execution of John Felton, Roman Catholic martyr, at St Paul's Churchyard. He was hanged, drawn and quartered.
1573 – Death of Simon Renard, Imperial Ambassador, in Madrid, Spain.
1586 or 1587 – Execution of John Finglow, Roman Catholic priest and martyr, at York. He also was hanged, drawn and quartered.
1588 - Elizabeth I decided to accept the Earl of Leicester's invitation, and set out to visit the troops he had gathered near Tilbury Fort, to bring comfort to them.
9 August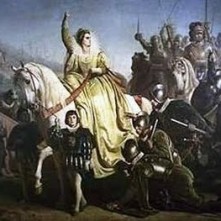 1556 – Funeral of Sir William Laxton, Lord Mayor of London (1544-5) and one of the wealthiest London merchants, at the parish church in St Mary Aldermary. The funeral was followed by a banquet hosted by the Grocers' Company of London and a mass led by John Harpsfield, Archdeacon of London.
1557 – Burial of the composer Nicholas Ludford in St Margaret's Church, Westminster. Ludford is known for his festal masses, which can be found in the Caius and Lambeth choirbooks (1521-27) and the Peterhouse partbooks (1539-40), and has been described as ""one of the last unsung geniuses of Tudor polyphony" (David Skinner).
1561 - Elizabeth I issued a royal mandate "that no manner of person, being either the head or member of any college or cathedral church within this realm, shall, from the time of notification hereof in the same college, have, or be permitted to have, within the precinct of any such college, his wife, or other woman, to abide and dwell in the same, or to frequent and haunt any lodging within the same college, upon pain that whoever shall do to the contrary shall forfeit all ecclesiastical promotions in any cathedral or collegiate church within the realm".
1588 – Elizabeth I appeared before her troops at Tilbury and gave her "Tilbury Speech".
1611 – Death of John Blagrave, mathematician and land surveyor. He was buried in St Lawrence's Church, Reading. Blagrave's works included "The Mathematical Jewel" (1585), Astrolabium Uranicum generale (1596) and "The Art of Dyalling" (1609). He also designed and made instruments, including sundials and astrolabes.
10 August
1512 – The Battle of Saint-Mathieu between the English and Franco-Breton fleets off the coast of Brest. Henry VIII's largest ship, the Regent, sank as did the Breton ship the Marie La Cordelière. Click here to read more.
1512 – Death of Sir Thomas Knyvet, courtier and Captain of the Regent. According to one report, he died before the ship sank, being killed by gunfire.
1518 – Death of Sir Robert Sheffield, lawyer and Speaker of the House of Commons. He was imprisoned in the Tower of London after making an enemy of Cardinal Wolsey, being accused of negligence as a Justice of the Peace and of harbouring a killer. It is not clear whether he was still in the Tower at his death, but he was buried in the nearby church of the Austin friars.
1520 – Birth of Madeleine de Valois, consort of James V of Scotland, at St Germain-en-Laye. She was the fourth child of Francis I of France and his wife, Queen Claude.
1532 – Birth of Thomas Jones, known as Twm Siôn Cati, the Welsh-language poet and genealogist. It is unclear whether he was born on Lammas Day (1st August) or St Lawrence's Day (10th August). Few of his poems have survived, and Welsh folklore has turned him into a 'Welsh Robin Hood'.
1534 - The friars observant were expelled from their houses due to their support of Catherine of Aragon and their refusal to accept the King's supremacy. Some were sent to houses of the Grey Friars where, according to Eustace Chapuys, the imperial ambassador, "they were locked up in chains and treated worse than they could be in prison". Others were imprisoned in London and a few fled abroad.
1553 – Mary I held an obsequy or requiem mass for the soul of her late half-brother, Edward VI. While she allowed him to have a Protestant burial on the 8th August, she ordered three days of Catholic requiem masses for him.
1621 – Death of Grey Brydges, 5th Baron Chandos, courtier and magnate. He died in Spa, Belgium, where he had travelled for his health. He was buried in the family chapel at Sudeley.
11 August
1556 – Death of Sir John Kingsmill, politician and a man who had been close to Thomas Cromwell and Thomas Wriothesley. He served as Sheriff in the reign of Henry VIII and as a Commissioner for the Dissolution of Chantries in 1548 to Edward VI.
1575 – Death of Alexander Home, 5th Lord Home, in Friar Wynd, Scotland. Home was imprisoned after the 1573 fall of Edinburgh Castle and the garrison loyal to Mary, Queen of Scots.
1581 – Death of Sir Maurice Berkeley, Gentleman Usher of Henry VIII's Privy Chamber. Berkeley served Edward VI as a Gentleman of the Privy Chamber, and was the man who arrested the rebel Thomas Wyatt the Younger in Mary I's reign.
12 August
1557 – Death of Sir John Pollard, judge, Speaker of the House of Commons (1553 and 1555) and Second Justice of Chester. He was buried in London.
1560 - The translator, lawyer, physician and paediatrician Thomas Phaer made his will after suffering an accident which made his right hand completely useless. His date of death is unknown, but he died at his Cilgerran estate in Pembrokeshire, Wales, within weeks of his will being drawn up.
1570 – Death of Lady Ursula Stafford (née Pole), daughter of Margaret Pole, Countess of Salisbury, and wife of Henry Stafford, 10th Baron Stafford.
1573 – Death of nobleman and rebel Leonard Dacre from a fever while in exile in Brussels. He was buried in St Nicolas Church in the city. Dacre is known for his participation in the 1569 Rising of the North, a rebellion seeking to remove Elizabeth I and to replace her with Mary, Queen of Scots.
1577 – Death of Sir Thomas Smith, humanist scholar and diplomat, at Hill Hall in Essex. He was buried in St Michael's Church, Theydon Mount. Smith served Elizabeth I as Chancellor of the Order of the Garter and as Secretary of State, but is known for his political books "The Discourse of the Commonweal" and "De Republica Anglorum; the Manner of Government or Policie of the Realme of England".
1596 – Burial of Henry Carey, 1st Baron Hunsdon, in Westminster Abbey at the expense of his cousin Elizabeth I.
13 August
1514 - Princess Mary Tudor, sister of Henry VIII, married King Louis XII by proxy at Greenwich Palace. Mary was present at the ceremony, but the Duke of Longueville stood in for the groom.
1566 – Death of Sir Humphrey Radcliffe, member of Parliament, at his manor of Elstow. He was buried in Elstow Church. Radcliffe served as a member of Parliament during the reigns of Mary I and Elizabeth I, and then as a JP and Sheriff in Elizabeth I's reign.
1568 – Death of William Barlow, Bishop of Chichester. He was buried in Chichester Cathedral.
1579 – Executions of Roman Catholic martyrs Friar Conn O'Rourke and Patrick O'Healy, Bishop of Mayo. They were hanged just outside Kilmallock, co. Limerick. O'Healy was tortured before his death, by having spikes driven through his hands, in the hope that he would give Sir William Drury, Lord President of Munster, details on James fitz Maurice Fitzgerald's plans to lead a Catholic crusade to Ireland. He would not talk. O'Healy was beatified in 1992.