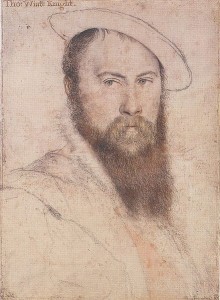 As today is the anniversary of the death of Sir Thomas Wyatt the Elder, poet and diplomat, on 11th October 1542, I thought it would be good to share a mini-biography of him. This article is adapted from an article I wrote for the Anne Boleyn Files a few years ago and an extract from my book On This Day in Tudor History.
Sir Thomas Wyatt was born in c.1503 at Allington Castle, Kent. He was the eldest son of Yorkshireman Sir Henry Wyatt and Anne Skinner, daughter of John Skinner of Reigate, a woman famed for her hospitality. Henry Wyatt was a skilled soldier and financier. During the Wars of the Roses, he had been a Lancastrian and it is possible that he was involved in the Duke of Buckingham's rebellion against King Richard III. He was certainly imprisoned in Richard III's reign and a family story tells of how he was saved from starvation during his imprisonment by a cat who brought him pigeons to eat. He was released on the accession of Henry VII, who rewarded him with many grants and titles. Henry Wyatt became a privy councillor under Henry VII and acted as an executor of the king's will on his death in 1509. He went on to serve the new king, Henry VIII, and was made a Knight of the Bath at his coronation in June 1509.
Little is known of Thomas Wyatt's childhood, apart from the family story of the lion. It is said that Thomas, or his father, were raising a lion cub as a pet when it turned on Thomas and attacked him. Thomas had the presence of mind to grab his rapier and run it through the lion's heart. When Henry VIII heard of this story, he commented "Oh, he will tame lions"
In 1516, at around the age of 13, Wyatt was appointed to serve as sewer-extraordinary at the christening of Henry VIII's daughter, Mary, the future Mary I. He studied at St John's College, Cambridge, a college known for Humanism. In 1520, Wyatt married Elizabeth Brooke, the daughter of Thomas Brooke, 8th Baron Cobham, and the couple had a son, Thomas Wyatt the Younger, in 1521. The Duke of Norfolk stood as a godfather at the baby's christening. In 1524, Wyatt followed his father's example and started a career at court as Clerk of the King's jewels. In 1525 he was made Esquire of the Body and he went on to become an ambassador, undertaking many foreign missions for his master, King Henry VIII, including one to France in 1526 and one to the Papal Court in Rome in 1527, an embassy to try to convince Pope Clement VII to annul the King's marriage to Catherine of Aragon. In 1528 he was made High Marshal of Calais and in 1532 he was made Commissioner of the Peace in Essex. Wyatt was also one of the men chosen to accompany the King and Anne Boleyn on their visit to France in late 1532 and he served Anne at her coronation in the summer of 1533. He was knighted in 1535.
Wyatt's marriage to Elizabeth Brooke was not a happy one and the couple were estranged by the late 1520s. Anne Boleyn, daughter of Sir Thomas Boleyn, who had grown up at Hever Castle, not far from the Wyatts at Allington, returned to the English court from France in late 1521 or early 1522. Wyatt's grandon, George Wyatt, later wrote that when Thomas Wyatt first saw Anne he was "surprised by the sight thereof" and that it was love at first sight. However, it seems that Anne was in love with another courtier, Henry Percy, son of the Earl of Northumberland, at this time, and by 1526 she had a new admirer, the king.
There is no evidence that Anne Boleyn and Thomas Wyatt were lovers, but some of Wyatt's poems suggest that he had feelings for Anne. His riddle poem "What wourde is that that chaungeth not" has the answer "Anna"; in "The Lover Confesseth Him in Love with Phyllis", he writes of "That Brunet", which is thought to refer to Anne; and his famous "Whoso list to hunt" tells of a man (Wyatt) hunting a hind with little chance of success, and then withdrawing from the hunt because of another hunter. If Anne is the hind, then Wyatt is talking of withdrawing his suit of Anne because she is now the property of the king: "Noli me tangere; for Caesar's I am." Although these poems suggest unrequited love, The Spanish Chronicle tells a story of Wyatt visiting Anne at her home at Hever. He finds her in bed, kisses her and touches her breast, but is stopped from going any further by a stamping noise from upstairs, the stamping of Anne's lover who has become impatient waiting for her! The Spanish Chronicle is known for its inaccuracies and tabloid nature, so it is very unlikely that there is any truth in this story, but it does suggest that there was some kind of flirtation between Wyatt and Anne. Another story is told by George Wyatt. In this story, Thomas Wyatt was entertaining Anne Boleyn with his poetry while she did needlework. Wyatt noticed a jewel hanging from Anne's pocket and playfully snatched it off her and decided to keep it as a trophy. Some time later, Wyatt was playing bowls with the king, the two of them arguing over a shot. Wyatt declared that the shot was his but the king declared "Wyatt, I tell thee it is mine", pointing to the wood with the finger on which he was wearing Anne's ring. Wyatt, seeing Anne's ring, replied, "If it may like your majesty to give me leave to measure it, I hope it will be mine", and then took Anne"s jewel from around his neck and began to measure the cast with its ribbon. The king was furious when he saw Anne's jewel. He broke up the game and then went in search of Anne for an explanation.
Click here for a Claire Chats video on Thomas Wyatt and Anne Boleyn.
Wyatt was one of the men imprisoned in May 1536 when Anne Boleyn fell from power, but his father's friendship with Thomas Cromwell appears to have saved him and he was released later that summer. During the Pilgrimage of Grace rebellion in 1536, Wyatt was made steward of Conisbrough Castle and he also provided men to fight against the rebels. In March 1537, Henry VIII made him an ambassador to the court of Charles V, the Holy Roman Emperor, and he was sent abroad with the mission of arranging a marriage between the king's daughter Mary and the infante of Portugal and to also prevent France and the Empire forming an alliance. Both missions failed. He was sent abroad again in late 1539, with the intention of upsetting relations between France and the Empire, but again failed and was recalled in April 1540.
Wyatt got into trouble in England in 1541, following the fall and execution of his one-time protector, Thomas Cromwell in the summer of 1540. Edmund Bonner accused Wyatt of communicating with Cardinal Pole and compassing the king's death. He was taken to the Tower on 17th January 1541, charged with treason. This time he had no father to secure his release, his father having died in November 1536. t was Catherine Howard, Henry VIII's fifth wife, who this time secured his pardon and release in March 1541, but Wyatt had to agree to return to his estranged wife.
Wyatt was quickly back in favour. In April 1541, just a month after his release, he was appointed to command 300 horses in Calais, he received grants of lands and offices in the summer of 1541 and in 1542 he was granted the stewardship of Maidstone manor, as well as being granted monastic properties. Also in 1542, Wyatt was restored to his office of ambassador. However, his return to favour was shortlived because Wyatt was taken ill after receiving the emperor's envoy at Falmouth. He had been suffering severe headaches since March 1539 and he made his will on 12th June 1541.
Sir Thomas Wyatt died on the 11th October 1542 at Clifton Maybank House, the home of his friend Sir John Horsey, in Sherborne Dorset. He was just thirty-nine years old. He left most of his possessions to his son, the future rebel Sir Thomas Wyatt the Younger, but did make provision for his mistress Elizabeth Darrell and his illegitimate son by her. He had taken her as a mistress by around 1537. Sir Thomas Wyatt the Elder was laid to rest at Sherborne Abbey. His plain tomb can be found in the Wykenham Chapel of the Abbey.
Wyatt's son, Thomas Wyatt the Younger, was executed on the 11th April 1554 after leading a rebellion, Wyatt's Rebellion or Wyatt's Revolt, against Queen Mary I. Although he was tried and found guilty on the 15th March, his execution was postponed in the hope that he would implicate Mary I's half-sister, Elizabeth, in the uprising. Wyatt went to his death protesting Elizabeth's innocence.
In 1549, Sir Thomas Wyatt the Elder's "Certain Psalms", Wyatt's translation of the Penitential Psalms, was published, followed by the publication of a number of his poems, together with those of the Earl of Surrey, in "Tottel's Miscellany" (Richard Tottel's Songs and Sonnets written by the Right Honorable Lord Henry Howard late Earl of Surrey and others).
Literary critic, and author of two books on Wyatt, Patricia Thompson, calls Thomas Wyatt "the Father of English Poetry" and Wyatt is known for introducing the sonnet into English. His poetry is still enjoyed today the world over.
Click here to enjoy an expert talk by author Wendy J. Dunn on Thomas Wyatt.
Here are links to where you can read Wyatt's work online:
Notes and Sources
"Sir Thomas Wyatt the Elder", article on The Anne Boleyn Files by Claire Ridgway, https://www.theanneboleynfiles.com/sir-thomas-wyatt-the-elder/
Ridgway, Claire (2012) On This Day in Tudor History, MadeGlobal Publishing
Burrow, Colin. "Wyatt, Sir Thomas (c.1503–1542)." Colin Burrow In Oxford Dictionary of National Biography, edited by H. C. G. Matthew and Brian Harrison. Oxford: OUP, 2004. Online ed., edited by David Cannadine, May 2015.
Hume, Martin Andrew Sharp (1889) Chronicle of King Henry VIII. of England: Being a Contemporary Record of Some of the Principal Events of the Reigns of Henry VIII. and Edward VI. Written in Spanish by an Unknown Hand (The Spanish Chronicle), p63-64.
Wyatt, George. The Life of Anne Boleigne. This appears in The Life of Cardinal Wolsey, Volume II, by George Cavendish