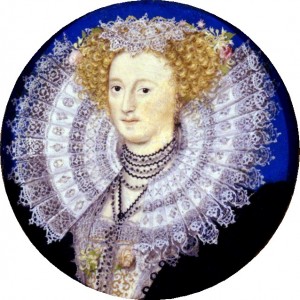 Mary Herbert (née Sidney), Countess of Pembroke, writer and literary patron, was born on 27th October 1561 at Tickenhall, near Bewdley in Worcestershire. She was the third daughter of Sir Henry Sidney and his wife, Mary (née Dudley), daughter of John Dudley, Duke of Northumberland, and she was the sister of the poets Sir Philip Sidney and Robert Sidney (later Earl of Leicester).
Mary's parents were loyal servants of the Crown. Edward VI had died in Mary's father's arms and Mary's mother had nursed Elizabeth I through smallpox, and been badly disfigured as a result of contracting the disease. Mary was also the niece of Robert Dudley, Earl of Leicester, Elizabeth I's favourite, and Ambrose Dudley, Earl of Warwick.
Mary was educated to a high level and was fluent in French, Italian and Latin. She made her debut at court in 1575, at the age of thirteen, and was present at Kenilworth Castle when her uncle, the Earl of Leicester, played host to the queen between 9th and 27th July 1575. It was Leicester who arranged Mary's marriage to Henry Herbert, 2nd Earl of Pembroke. The couple married on 21st April 1577. Pembroke was over twenty years older than Mary and had lost his second wife in May 1576, and was childless. Mary and Pembroke had at least four children: William Herbert, 3rd Earl of Pembroke (1580-1630); Katherine (1580-1584); Anne (b. 1583, died in her twenties); and Philip Herbert, 1st Earl of Montgomery and 4th Earl of Pembroke (1584-1650). Mary's biographer, Margaret Patterson Hannay, states that Mary also had at least one stillbirth or a child who died in infancy.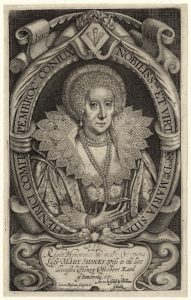 The Pembrokes divided their time between their estate at Wilton, near Salisbury, and Baynards Castle, London. Mary's brother, the famous poet Sir Philip Sidney, wrote The Countess of Pembroke's Arcadia (1593) at Wilton, and Margaret Patterson Hannay writes that "Sidney seems to have entrusted several of his manuscripts to his sister, including those of Certain Sonnets, Astrophil and Stella, and the Lady of May, which she later had printed in the 1598 edition of the Arcadia, which served almost as Sidney's collected secular works." They were obviously close. Mary lost her parents and Philip in 1586 and spent two years in mourning at Wilton, returning to London in November 1588 for the celebrations for Accession Day and the victory over the Spanish Armada. Patterson Hannay writes that "Mary Herbert honoured her brother's memory by serving as a literary patron to those who honoured him, by supervising the 1593 and 1598 editions of his Arcadia, by translating works that he would have approved, by completing the metric paraphrase of the Psalms that he had begun, and by writing poems to praise him. These efforts on his behalf also permitted her to achieve a literary career herself, despite cultural injunctions to female silence."
Mary acted as patron to a number of poets, supported by her husband, Pembroke, and was "the first non-royal woman in England to receive a significant number of dedications". Her family wrote poetry, as did members of her household. Mary was also known for her support of religious education and for her beauty.
Mary's known works include:
In 2010, June and Paul Schlueter discovered five unpublished poems by Mary in a manuscript of English poems in the Landesbibliothek und Murhardsche Bibliothek in Kassel, Germany. These included The Countess of Pembrokes mediation & sonnet, Of the River Bankes between Meziers & Liege and Upon the death of the Countesse of Rutland daughter to Sir. Philip Sydney.
Mary's husband died in January 1601 and although he left her well-provided, his death did lead to a reduction in her literary patronage. However, Mary lived life to the full:
"She subsequently helped to arrange the marriages of her children, continued her literary patronage on a much reduced scale, travelled on the continent, brought lawsuits against jewel thieves, pirates, and murderers, and built a country home, Houghton House, in Bedfordshire. King James visited her there in July 1621 [...] she conducted a literary salon, wrote, danced, played cards, took tobacco, shot pistols, and carried on a flirtation with her handsome and learned doctor, Matthew Lister."
Wow!
We also know from her correspondence that she continued writing, although these later works have not survived.
Mary died of smallpox on 25th September 1621 at her London residence in Aldersgate Street. She was fifty-nine years of age. She was laid to rest next to her husband at Salisbury Cathedral following a lavish funeral at St Paul's Cathedral. Her epitaph reads:
"Underneath this sable hearse,
Lies the subject of all verse,
Sidney's sister, Pembroke's mother.
Death, ere thou hast slain another
Fair and learned and good as she,
Time shall throw a dart at thee."
Patterson Hannay writes of how Mary is no longer in her brother Philip Sidney's shadow and that she is "currently recognized as one of the first significant women writers in English.". She was praised by John Donne and "Contemporaries who celebrated her works and / or borrowed from them include Samuel Daniel, John Davies, John Donne, Michael Drayton, Gabriel Harvey, George Herbert, Aemilia Lanyer, Henry Parry, William Shakespeare, Edmund Spenser, and Mary Wroth." She deserves to be remembered and her works read.
The Mary Sidney Society puts forward the idea that Mary "wrote the works attributed to William Shakespeare" - see http://www.marysidneysociety.org/.
Notes and Sources
Pictures: miniature of Mary Herbert, Countess of Pembroke, by Nicholas Hilliard, c. 1590, NPG; Line engraving of Mary Herbert, Countess of Pembroke, by Simon de Passe, 1618.
Hannay, Margaret P.; Lamb, Mary Ellen; Brennan, Michael G (2015) The Ashgate Research Companion to The Sidneys, 1500–1700: Volume 2: Literature
Schlueter, June The Papers of the Bibliographical Society of America, Vol. 107, No. 2 (June 2013), pp. 241-270. This can be read at http://www.jstor.org/stable/10.1086/680797?seq=1#page_scan_tab_contents
June Schlueter and Paul Schleuter, 'Half maim'd? Five unknown poems by Mary Sidney Herbert, Countess of Pembroke', TLS, 23 July 2010, pp. 14-15.
Hannay, Margaret Patterson. "Herbert [Sidney], Mary, countess of Pembroke (1561–1621)." Margaret Patterson Hannay In Oxford Dictionary of National Biography, edited by H. C. G. Matthew and Brian Harrison. Oxford: OUP, 2004. Online ed., edited by David Cannadine, January 2008.
Mary Sidney, Wikipedia page - This has a good list of further reading.