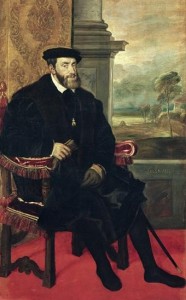 On this day in Tudor history, 21st September 1558, in the reign of Queen Mary I, Mary's cousin and father-in-law, Charles V, former Holy Roman Emperor, died from malaria at the monastery of Yuste in the Extremadura region of Spain.
Charles had previously been suffering from debilitating attacks of gout which had necessitated him being carried around in a chair.
He was buried at the monastery church, but later moved to the Royal Pantheon of El Escorial, the Royal Palace at San Lorenzo de El Escorial near Madrid.
You can find out more about Charles V, Holy Roman Emperor with these resources:
Also on this day in Tudor history...
Image: Charles V by Titian.