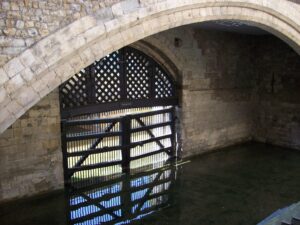 On this day in Tudor history, 22nd September 1544, in the reign of King Henry VIII, architect, carpenter and surveyor James Nedeham died while accompanying the king to Boulogne. He was buried in Boulogne at the church of Our Lady, and a monument was erected to him at the church in Little Wymondley, Hertfordshire.
Nedeham worked for Cardinal Wolsey on York Place, and then for the king on Hampton Court Palace, the Jewel House at the Tower of London and St Augustine's in Canterbury.
Here are a few facts about James Nedeham:
Nedeham's birthdate is unknown but he was the son of carpenter Christopher Nedeham of London.
In 1514, Nedeham joined the London Carpenters' Company.
In 1515 and 1533, Nedeham served as warden of the company and then master in 1534, 1535 and 1542.
In 1521, Nedeham designed a louvre for the Mercers' Hall.
Between 1522 and 1525, Nedeham worked abroad as a military carpenter.
In 1525, on his return to England, he became a gunner in the Tower of London and in the following year was made a senior gunner.
Cardinal Thomas Wolsey employed Nedeham to work on York Place (later known as Whitehall) and he continued to work there under the king after Wolsey's fall.
In 1530, he was employed by the Marquess of Exeter to build galleries at his London property.
In March 1531, Nedeham was appointed as master carpenter of the king's works and in October 1532 became surveyor.
In 1532, Nedeham restored the timber framing above the arch of Traitors' Gate at the Tower of London during building work at the Tower in preparation for Queen Anne Boleyn's coronation.
Nedeham's other projects included designing the roof of the great hall at Hampton Court Palace, building the Jewel House at the Tower of London, working on St Augustine's at Canterbury, and converting former monastic buildings in Rochester and Dartford.
In 1538, Nedeham bought the dissolved priory at Little Wymondley in Hertfordshire and made it his home.
Nedeham was married to Alice Merrey and together they had seven children, five sons and two daughters.
Also on this day in Tudor history...
Notes and Sources
Airs, M. (2008, January 03). Nedeham, James (d. 1544), architect. Oxford Dictionary of National Biography. Retrieved 21 Sep. 2023, from https://www.oxforddnb.com/view/10.1093/ref:odnb/9780198614128.001.0001/odnb-9780198614128-e-19844.
"Nedeham, James", https://www.encyclopedia.com/education/dictionaries-thesauruses-pictures-and-press-releases/nedeham-james
Traitor's Gate -- Tower of London, Tower Hamlets, London, UK, https://www.waymarking.com/waymarks/wmT11R_Traitors_Gate_Tower_of_London_Tower_Hamlets_London_UK