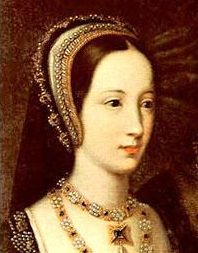 On this day in Tudor history, 14th September 1514, in the reign of King Henry VIII, King Louis XII of France and Mary Tudor, sister of King Henry VIII, married by proxy in Paris.
Mary had been betrothed to Charles of Ghent, the future Charles V, Holy Roman Emperor, since a marriage treaty between her father, Henry VII, and Emperor Maximilian had been signed in 1507. However, by the summer of 1514, it became clear that the emperor would not be honouring the agreement so Mary repudiated the contract on 30th July and was then quickly promised in marriage to Louis XII.
On 13th August 1514, Mary and Louis were married by proxy - click here for more on that. The ceremony took place at Greenwich Palace with Louis d'Orléans, Duke of Longueville, standing in for the fifty-two-year-old French king. Then, on 14th September, a second proxy wedding ceremony took place at the Church of Celestines in Paris. This time, Louis was present but his eighteen-year-old bride was represented by Charles Somerset, Earl of Worcester.
Mary set sail for France on 2nd October 1514 and married Louis on 9th October 1514 at Abbeville - click here for more on that.
Also on this day in Tudor history...
Image: Mary Tudor, Queen of France, detail from a portrait of her and her second husband, Charles Brandon, Duke of Suffolk.