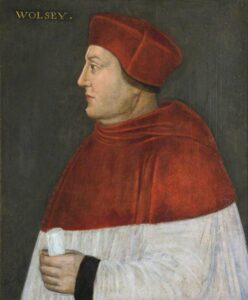 On this day in Tudor history, 15th September 1514, in the reign of King Henry VIII, Thomas Wolsey was appointed Archbishop of York. He had already been appointed Bishop of Lincoln in February of that year.
The previous Archbishop of York, Cardinal Christopher Bainbridge, had died in Rome on 14th July 1514 and Wolsey had been elected to the vacant office a few weeks later.
Wolsey would be elevated to the office of Cardinal in September 1515.
Wolsey was born in 1470/71, so was about forty-four years of age when he became archbishop.
Click here to read more about the life and career of Cardinal Thomas Wolsey.
Also on this day in Tudor history...
Image: A portrait of Cardinal Thomas Wolsey by an unknown artist, Trinity College, University of Cambridge.