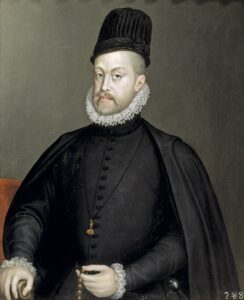 On this day in Tudor history, 13th September 1598, in the reign of Queen Elizabeth II, Philip II of Spain died at El Escorial, near Madrid.
He was buried there the next day.
It is thought that the seventy-one-year-old king died of cancer, and he had been ill for fifty-two days.
Here are a few facts about Philip of Spain:
Philip was born on 21st May 1527 at Valladolid in Castile (Spain).
He was the eldest son of Charles V, Holy Roman Emperor, and his wife Isabella of Portugal.
His titles included King of Spain, King of Portugal, King of Naples and Sicily, Duke of Milan, and Lord of the Seventeen Provinces of the Habsburg Netherlands. He was also joint sovereign of England following his marriage to his second wife, Mary I, in 1554.
He was married four times: Maria Manuela, Princess of Portugal, with whom he had a son, Carlos, Prince of Asturias; Mary I; Elisabeth of Valois, with whom he had two surviving daughters; and Anna of Austria, with whom he had four sons and one daughter, although only one of the sons, Philip III of Spain, survived into adulthood.
He loved playing the guitar and hunting.
Philip is known for being a champion of the Counter-Reformation and for the failure of his Spanish Armada against Elizabeth I in 1588.
Also on this day in Tudor history...
Image: Portrait of Philip II of Spain by Sofonisba Anguissola.