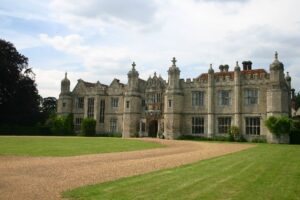 On this day in Tudor history, 11th September 1540, Sir Thomas Kitson (Kytson), merchant, Sheriff of London and builder of Hengrave Hall in Suffolk, died at Hengrave. He was buried in the church there.
Here are some facts about Sir Thomas Kitson:
Kitson was born in 1485 in Warton, Lancashire, and was the son of Robert Kitson.
He was apprenticed to mercer and merchant adventurer Richard Glasyer and was granted the freedom of the City of London in 1507.
By 1509, Kitson was trading under his own name.
From 1525-6, and again in 1533-4, Kitson served as Warden of the Mercers' Company.
By the mid 1530s, he had built up a successful business. His biographers Charles Welch and Ian W. Archer state that in 1534-5, Kitson exported 625 cloths and that "only ten merchants exported larger quantities". They explain that Kitson traded "mainly in the broadcloths of Hampshire, Wiltshire, and Somerset, but also traded on a more limited scale in the coarser Lancashire cottons, Welsh frises, and coarse woollen Kendal penistones" and he imported fustians, linens, velvets and spices.
Kitson used his wealth to purchase properties in Suffolk, Nottinghamshire, Devon, Dorset and Somerset, including the manor of Hengrave in Suffolk, which he brought from Edward Stafford, Duke of Buckingham, shortly before the duke was attainted in 1521. Kitson built Hengrave Hall there, spending £3500 over 14 years.
He also owned properties in Milk Street, London, and Stoke Newington.
In 1533, Kitson was knighted.
In 1533-4, Kitson served as Sheriff of London and in 1534 as alderman of the ward of Castle Baynard.
In 1534-5, Kitson served as Master of the Mercers' Company.
Kitson married twice. We don't know the name of his first wife, but they had a daughter, Elizabeth, together. His second wife was Margaret Donnington, daughter and sole heir of John Donnington of Stoke Newington, and she gave Kitson a son, Sir Thomas Kitson (1540-1603) and four daughters. After Kitson's death, Margaret married Sir Richard Long, and, after his death, John Bourchier, 2nd Earl of Bath.
Also on this day in Tudor history...
Image: Hengrave Hall, which was built by Sir Thomas Kitson. Photo by Bob Jones, https://www.geograph.org.uk/photo/20729.