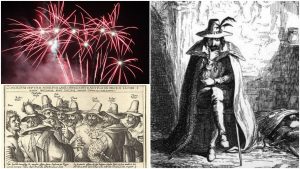 One thing I do miss about living in the UK is the annual fireworks display we used to attend as a family. The annual ritual of putting on warm clothes, going out to watch some spectacular fireworks (we lived near a fire college and the firemen did a wonderful job), then coming back to hot chocolate and other warm treats - bliss! Here, where I live in Spain, of course, it's a normal day and Guy Fawkes doesn't mean anything to anybody. The only fireworks we have here are the bangers let off when the football results are good or at our village fiesta in January. There's no colour to them, they just flash and bang - very sad!
Although Bonfire Night, as it's usually called today, is all about fireworks, sparklers, bonfires, toffee apples, a hot pork roll, jacket potato, a hot chocolate, a slice of parkin, and perhaps some apple bobbing for fun and collecting "a penny for the Guy" (and then burning the Guy!), there is, of course, more to it than that. Bonfire Night is supposed to be a celebration of the fact that the conspirators in 1605 were not successful in blowing up the Houses of Parliament and killing King James I - that is what is behind it all.
If you ask the general public what they know about the Gunpowder Plot, they would probably know the basics, but I bet the only plotter they could name would be Guy Fawkes (unless they watched "Gunpowder" starring Kit Harington!). Yes, Guy (or Guido) Fawkes was the one caught red-handed with thirty-six barrels of gunpowder in the cellar beneath Westminster, but there were other men involved and Robert Catesby was the real leader. You can read more about the Gunpowder Plot in my article 5th November 1605 – The Gunpowder Plot, and here are further resources:
Remember Remember, Gunpowder Treason and Plot - This article from Historic Royal Palaces includes a photo of "a large marble and alabaster memorial that records the names on the Gunpowder Plot conspirators alongside those of the Privy Councillors who oversaw their interrogation."
The Gunpowder Plot and the First World War - A BBC History Magazine podcast which includes historian Clare Jackson paying a visit to Coughton Court in Warwickshire to explore its connections to the Gunpowder Plot.
Bonfire Night recipes:
You can see more recipes at Bonfire Night Food and Videos.
Resources for Tudor Society members:
Some towns in the UK have firework processions. We had family in Lewes so have watched the one there, although not recently. Here are a few YouTube videos about last year's procession:
Are you doing anything for Bonfire Night? Please do share how you mark it or what your community does.