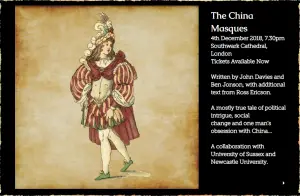 Thank you to Michelle Yim of Red Dragonfly Productions for sending me the following information:
At Southwark Cathedral in London this December, for one night only, we ordinary folk will be able to enjoy entertainments performed only once before at the Elizabethan and Jacobean Courts, and in doing so bear witness to some of the political intrigues of the time.
With Queen Elizabeth getting older, and having no successor, Sir Robert Cecil, risking treason, is secretly negotiating with the King of the Scots to take over the throne. He also has a wish to open up a trade route to China, and the arrival of a foreign visitor gives him some hope of this, but will the Queen approve of his plans? If she does then will the new King be of the same mind? A mostly true tale of political intrigue, social change and one man's obsession with porcelain, performed in glorious costume in one of London's most historic buildings.
The English Department of the University of Sussex approached British East Asian theatre company Red Dragonfly Productions in 2017 to look at the opportunities in bringing court entertainments with Chinese themes, written by Jonson and Davies, back to the stage. Red Dragonfly decided it would be a good idea to weave a narrative around some of these pieces, to give them context and narrative, so brought in writer Ross Ericson. High-quality the China Masques came about, an exciting new piece of experimental drama that brings to life the sumptuous celebrations of the Elizabethan and Jacobean Courts.
Production: The China Masques
Company: Red Dragonfly Productions
Dates/Times: 4th December 2018 @ 7.30pm
Running Time: 80 mins, no interval
Venue: Southwark Cathedral, London Bridge, London SE1 9DA
Tickets: £20/ £15 conc
Bookings: Online: https://www.reddragonflyproductions.co.uk/ Tel: 07487 228993
Website: https://www.reddragonflyproductions.co.uk/
Written by: Ben Jonson and John Davies, with additional text by Ross Ericson
Directed by: Ross Ericson
Designed by: Red Dragonfly Productions
About the Company and the Writer:
Red Dragonfly Productions has championed British East Asian theatre since 2014. Over the last four years they have toured nationally with the classic Chinese stories The Autumn of Han and DiaoChan: The Rise of the Courtesan. Toured internationally (to Australia) with The Empress and Me and championed British East Asian and British South Asian writers through their Taking Flight new writers competition. The Empress and Me recently sold out its performance at Southbank Centre's China Changing Festival and their latest production An Evening With Miss Wong is currently on tour. Next year they will be launching their new rep tour of Monkey and The Cave of The Spider Demons and Tom Jones.
Ross Ericson is a critically acclaimed playwright. His works include Casualties, The Unknown Soldier (both published by Methuen), Gratiano, The Autumn of Han and DiaoChan: The Rise of the Courtesan.