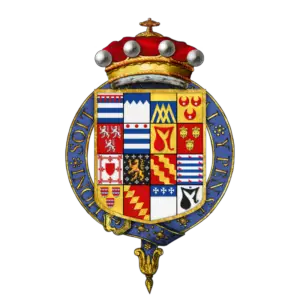 On this day in Tudor history, 14th October 1593, in the reign of Queen Elizabeth I, soldier and Lord Deputy of Ireland, Arthur Grey, 14th Baron Grey of Wilton, died at his home of Whaddon in Buckinghamshire. He was buried there.
Grey had a reputation for radical Protestantism.
Here are a few more facts about Arthur Grey:
Arthur Grey was born in 1536 at the castle at Hammes, in the English territory of Calais.
He was the eldest son of soldier William Grey, 13th Baron Grey of Wilton, and his wife, Mary, daughter of Charles Somerset, 1st Earl of Worcester.
He served with his father in the French campaign of 1557 and was given up as a hostage during the negotiations for the surrender of Guînes in 1558.
In 1560, he served with his father in Scotland was was shot in the shoulder.
He was knighted in July 1560.
Arthur's father died in December 1562 and Arthur became 14th Baron Grey of Wilton.
He was married twice. His first wife was Dorothy, an illegitimate daughter of Richard, 9th Baron Zouche. They had a daughter together: Elizabeth Grey. His second wife was Jane Sibylla, daughter of Sir Richard Morison and widow of Edward Russell, Baron Russell. Their children included Thomas Grey, 15th Baron Grey of Wilton, and Bridget, Lady Egerton.
By 1569, Arthur was serving as Lord Lieutenant of Buckinghamshire.
In 1572, he was elected to the Order of the Garter.
In 1580, he was appointed Lord Deputy of Ireland and sent to Ireland to put down the rebellions by the Earl of Desmond and Viscount Baltinglass. Unfortunately, he suffered a serious defeat in August 1580 in an ambush, but was more successful in the siege of Smerwick in Kerry, forcing the enemy to surrender and then brutally massacring them, even though he'd promised them their lives. He was recalled from Ireland in 1582.
In 1586, it was rumoured that Robert Dudley, Earl of Leicester, wanted to nominate a number of radical protestant, including Arthur, to the queen's privy council, but that William Cecil, Lord Burghley, put a stop to it.
In 1585, Arthur was considered as a potential governor of the Netherlands, but he was crippled with debts. Peregrine Bertie, 13th Baron Willoughby, was eventually sent instead. However, Arthur did sit on a special committee discussing where the Spanish Armada might land to invade England and how they could stop it. Then, at Tilbury, in 1588, when Leicester gathered troops at Tilbury Fort, Arthur served as marshal of the army.
He supported the execution of Mary, Queen of Scots.
His biographer, Julian Locke, explains that his "affinity for radical protestantism" was "reflected both in his ecclesiastical patronage and in his personal religion."
He died on 14th October 1593 and his son, Thomas, inherited his title.
His son, Thomas Grey, 15th Baron Grey of Wilton, was accused of involvement in the Bye Plot, a conspiracy to kidnap James I of England. He was condemned to death and taken to the scaffold, but then reprieved.
Also on this day in Tudor history...
Notes and Sources
Image: Arms of Arthur Grey, 14th Baron Grey of Wilton, by Rs-nourse, Wikimedia Commons.