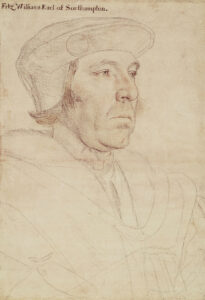 On this day in Tudor history, 15th October 1542, in the reign of King Henry VIII, courtier, diplomat and naval commander William Fitzwilliam, Earl of Southampton, died in Newcastle-upon-Tyne. It is thought that he was buried in Newcastle.
Fitzwilliam's offices included Vice Admiral, Treasurer of the Household and Lord Privy Seal. He died while leading troops to Scotland under the command of Thomas Howard, 3rd Duke of Norfolk.
Here are some more facts about Southampton:
William Fitzwilliam, Earl of Southampton, was born in around 1490 and was the third son of Sir Thomas Fitzwilliam of Aldwark, Yorkshire, and his wife, Lucy Neville, daughter of John Neville, Marquess of Montagu.
When he was about ten, he joined the household of Prince Henry, the future Henry VIII, as a companion to the young prince. He was educated with the prince. This is thought to have been due to the influence of his stepfather, Sir Anthony Browne, who was Henry VII's standard bearer and Constable of Calais.
In 1512, Fitzwilliam accompanied Thomas Grey, 2nd Marquess of Dorset, to Guyenne, and then served under Sir Edward Howard in a failed naval attack on Brest. Howard was killed and Fitzwilliam suffered a crossbow injury. He then led a company of the King's guard with Henry VIII and was knighted at Tournai.
In November 1512, Fitzwilliam married Mabel Clifford. King Henry VIII attended their marriage.
In 1518, he was part of an embassy to France.
By 1520, Fitzwilliam was serving as vice-admiral under the Earl of Surrey, which included organising Henry VIII's convoy to the Field of Cloth of Gold meeting with Francis I, where he attended on the king.
In 1521, Fitzwilliam attended on the king at Gravelines at the meeting with Emperor Charles V.
In 1521, he became the resident ambassador in France. He was recalled in 1522 after suffering ill-health.
On his return to England, Fitzwilliam, as vice-admiral, had the job of preparing ships at Portsmouth for war with France and served under the Earl of Surrey burning French towns and villages. The following year, his fleet were victorious against the Scottish and French off the coast of Boulogne.
In 1522, Fitzwilliam was made joint master of the ordinance at Calais and in 1523, he was appointed captain of Guisnes.
He accompanied Sir Robert Wingfield on an embassy to Margaret of Savoy in 1523, but was recalled due to ill health.
By autumn 1525, Fitzwilliam had been appointed as treasurer of the household.
In 1526, he was elected to the Order of the Garter.
Between 1526 and 1530, he served at lieutenant of Calais Castle and also took part in embassies in France.
Fitzwilliam was close to Cardinal Thomas Wolsey but ended up having to support the proceedings against the cardinal.
In 1529, he was a Member of Parliament for Surrey, and then again in 1536.
In 1529, Fitzwilliam was made chancellor of the Duchy of Lancaster.
In 1536, following the death of Henry Fitzroy, Duke of Richmond and Somerset, he was made Lord High Admiral of England.
In 1536, during the fall of Anne Boleyn, Sir Henry Norris accused Fitzwilliam of tricking him into a confession.
In 1537, he was made Earl of Southampton.
In 1538, he was involved in questioning Geoffrey Pole and Margaret Pole, Countess of Salisbury, and in 1540, he was involved in questioning his former friend, Thomas Cromwell.
In 1539, he was one of the men responsible for welcoming Anne of Cleves on her arrival to Calais on her journey to England to marry the king. He praised Anne's beauty.
In 1540, following Thomas Cromwell's fall, Fitzwilliam was made Lord Privy Seal.
In 1540, in the House of Lords, he was responsible for introducing legislation which would become the Navigation Act.
In 1540, he was part of the delegation sent to Anne of Cleves to inform her of Henry VIII's wish to annul his fourth marriage, and was a witness for the king in the annulment proceedings.
In 1541, he was involved in the investigation into Queen Catherine Howard's past.
Fitzwilliam died on 15th October 1542 at Newcastle while travelling to serve as admiral against the Scots.
His earldom became extinct on his death, for he had no surviving children.
Also on this day in Tudor history...
Notes and Sources