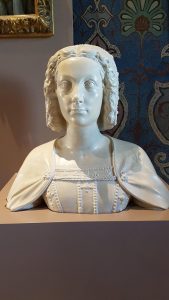 On this day in Tudor history, 13th October 1499, Queen Claude of France, wife of King Francis I of France and mother of King Henry II of France, was born in Romorantin-Lanthenay, in the Loire Valley in France.
Claude was the eldest daughter of King Louis XII of France and Anne of Brittany, but salic law prevented her from acceding to the throne of France on the death of her father in January 1515. Her husband and cousin, Francis, Duke of Angoulême, inherited the throne and so Claude became queen consort instead.
Claude was pregnant many times and had seven children. Five of them survived childhood: Francis III, Duke of Brittany, who died at the age of 18; King Henry II, who succeeded his father and was married to Catherine de' Medici; Madeleine of Valois, who married King James V of Scotland but died at the age of 16; Charles II of Orléans, who died at the age of 23, and Margaret of Valois, who married Emmanuel Philibert, Duke of Savoy, and who died at the age of 51.
Claude was queen until her death on 20th July 1524.
Trivia: One of her ladies was Anne Boleyn, who served her from 1515 until late 1521.
See a video talk about Queen Claude here.
Also on this day in Tudor history...
Image: A bust of Queen Claude from The Queen's Gallery at the Royal Château of Blois, photo by Claire Ridgway.