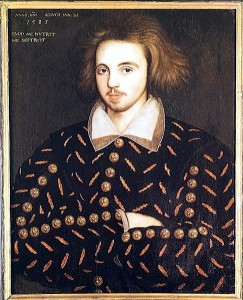 On this day in Tudor history, 30th May 1593, the Elizabethan playwright and poet, Christopher Marlowe, was fatally stabbed in a house in Deptford Strand, London.
The coroner ruled that Ingram Frizer, who had stabbed Marlowe, had acted "in the defence and saving of his own life".
According to witness statements, an argument had broken out between the two men over the payment of a bill and Marlowe had grabbed Frizer's dagger and wounded him twice on the head before Frizer managed to get the dagger off him and strike a mortal wound over Marlowe's right eye.
Of course, witnesses can lie and perhaps Marlowe was actually murdered.
There are more details in this video I made about the inquest:
Also on this day in Tudor history...