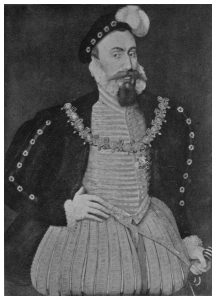 On this day in Tudor history, 23rd May 1547, in the reign of King Edward VI, Henry Grey, 3rd Marquis of Dorset was installed as a Knight of the Garter.
Grey had longed to be a garter knight for years, but even though his father-in-law, Charles Brandon, Duke of Suffolk, nominated him annually, he was not elected. Things changed in Grey's favour when Edward VI became king. Historian Robert C. Braddock points out that his wife Frances Brandon's Tudor blood became valuable to the Seymours. Edward Seymour, Lord Protector, made Grey a Knight of the Garter, and Thomas Seymour took on the wardship of Grey's daughter, Lady Jane Grey, promising that he'd help marry her to the king.
Sadly, in just a few years, the Seymours, Grey and his daughter would end up on the scaffold.
Click here to find out more about Henry Grey.
Also on this day in Tudor history...
Image: Man thought to be Henry Grey, Duke of Suffolk, by Johannes Corvus