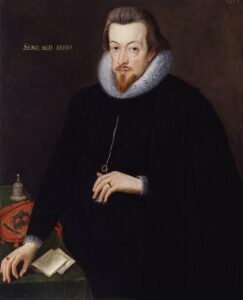 On this day in history, 24th May 1612, courtier and statesman, Robert Cecil, 1st Earl of Salisbury, died at Marlborough in Wiltshire. He had been diagnosed with two large tumours in August 1611 and was on his way home from taking the waters at Bath when he died.
Robert Cecil served Queen Elizabeth I as Secretary of State from 1596 and was retained in that office by James I. He also served James as Lord High Treasurer from 1608. He was still serving in both those offices at his death.
Here are some facts about Robert Cecil:
He was born in 1563 and was the only surviving son of William Cecil, 1st Baron Burghley, and his second wife, Mildred Cooke.
He had known Elizabeth I since childhood as his parents regularly played host to the queen on progress at their home, Theobalds.
Elizabeth I called him "my pygmy", probably due to his short stature and his curved spine. James I called him "my little beagle".
He was admitted to Elizabeth I's presence chamber in 1584.
In 1586, when he was just 23, Robert prepared a piece of propaganda, "The Copie of a Letter to the Right Honourable the Earle of Leycester" for his father and Sir Francis Walsingham, It was, as historian Pauline Croft points out, "intended to demonstrate to European public opinion how reluctant Elizabeth was to condemn the Scottish queen to death." Robert wrote its preface and it comprised Elizabeth's answers to Parliament's petitions for her to execute Mary, Queen of Scots. It was translated into French and Latin.
In 1588, he undertook a diplomatic mission with the Earl of Derby to talk to the Duke of Parma and he also met Maurice of Nassau.
In 1591, he was knighted and appointed to Elizabeth I's privy council.
He was married to Elizabeth Brooke, Elizabeth I's god-daughter.
In 1596, Robert was made Secretary of State and in 1597 he was made Chancellor of the Duchy of Lancaster.
In 1591, he was made master of the wards.
He had an enemy in Robert Devereux, 2nd Earl of Essex, who despised the Cecil faction and their closeness to Queen Elizabeth I. However, Essex was executed in 1601 after his failed rebellion.
From 1601, Robert Cecil began corresponding with King James VI of Scotland and building a relationship with the man who would become King of England.
When James became king in 1603, Robert retained his position of Secretary of State and was Baron Cecil or Essendon.
In James I's reign, Robert also served as chancellor of the Universities of Dublin and Cambridge.
Robert had to sit in judgement at the trials of his brothers-in-law, Henry Brooke, Lord Cobham, and George Brooke, and also Sir Walter Raleigh, after they were implicated in plots against the king.
In 1604, Robert headed the English delegation which negotiated the Treaty of London between England and Spain. James I rewarded him for his work by making him Viscount Cranborne and then Earl of Salisbury.
In 1605, he was one of the men who discovered the Gunpowder Plot against the king.
In 1606, he was elected to the Order of the Garter and in 1607, he was made Lord Treasurer.
In 1607, King James I gave Robert Hatfield Palace in exchange for Theobalds. Robert set about rebuilding it as Hatfield House.
Robert was only 48 years old when he died. He was laid to rest at St Etheldreda's Church, Hatfield. Composer William Byrd, who had benefited from Robert's patronage, wrote his pavane "The Earle of Salisbury" in Robert's memory.
Also on this day in Tudor history...
Image: Robert Cecil, 1st Earl of Salisbury, by John de Critz the Elder