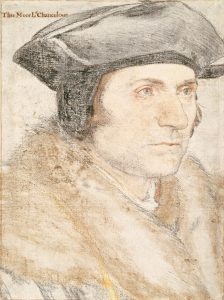 On this day in Tudor history, 16th May 1532, Sir Thomas More resigned as King Henry VIII's Lord Chancellor.
More, who had been a real father figure to Henry VIII, had held the office since 25th October 1529, following the fall of his predecessor, Cardinal Thomas Wolsey. However, More opposed Henry VIII's quest for an annulment of his first marriage, and the idea of the king being the supreme head of the church. The final straw for More, was the king's attack on the clergy, on 11th May 1532, when he suggested they were traitors because of their oath to Rome, and the subsequent submission of the clergy to the king's demands.
More ended his life on the scaffold in July 1535 for his opposition to the king.
You can read more about Sir Thomas More's life over in the Sir Thomas More Bio on the Anne Boleyn Files site - click here.
Also on this day in Tudor history...