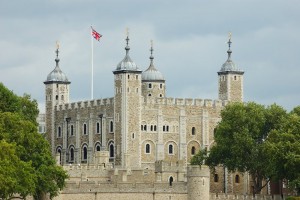 On 27th or 28th September 1553 (sources differ regarding the date), Mary I travelled in a decorated barge to the Tower of London to prepare for her coronation. She was accompanied by her half-sister, Elizabeth, and as they pulled up to Tower Wharf, they were greeted by music and cannons firing. It was traditional for monarchs to go to the Tower before their coronations and process from there to Westminster.
Here are some primary source accounts of this day in history:
"The xxviij day of September the Qwen('s) grace removed from Sant James, and so to Whyt Hall, and ther her grace took her barge unto the Towre, and ther all the craftes and the mare and the aldermen in bargurs (fn. 42) with stremars and mynstrells, as trum pets, wettes [waits], shames, and regalls, and with a gret [shooting] of gunes tyll her grace cam in-to the Towr, and...[the rest is missing]" The Diary of Henry Machyn Citizen and Merchant-Taylor of London (1550-1563)
"Note, that the xxvij. of September, the quenes majestye cam to the Tower by water towarde hir coronatione, and with hir the lady Elizabeth hir sister, with diverse other ladyes of name, and the hole counsayll. The lord Paiget bare the sworde before hir that daye. Before hir aryvall was shott of a peale of gonnes." The chronicle of Queen Jane, and of two years of Queen Mary, and especially of the rebellion of Sir Thomas Wyat
"The 27 of September the Queene removed from St. James and The Queen removinge tooke her barge at Whitehall in the afternoone aboute iii of the clock, so to passe to the Tower of London, shootinge the bridge at a full sea." A Chronicle of England During the Reigns of the Tudors, from A.D. 1485 to 1559, Volume 2.
"The 27 of September, Q. Mary came to the tower by water, accompanied with the Lady Elizabeth her sister, and other ladies, before whose arrivall was shot a great peale of guns." Annals of England to 1603.
Members can check out more primary sources for Mary I and her reign on our Mary I Primary Sources page.
Notes and Sources