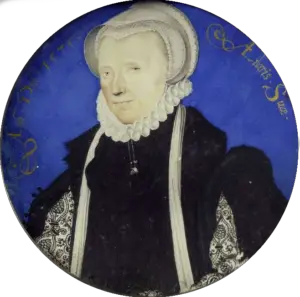 On this day in Tudor history, on the evening of 9th March 1578, in the reign of Queen Elizabeth I, sixty-two-year-old Margaret Douglas, Countess of Lennox, died.
Margaret had been recorded as suffering from a colic but the fact that she had dined with Robert Dudley, Earl of Leicester, two days before, led to rumours that she had been poisoned. However, there was no evidence to support the rumour. Margaret was buried at Westminster Abbey on 3rd April 1578.
Margaret Douglas was the daughter of Margaret Tudor, dowager queen of Scotland, by her second husband, Archibald Douglas, 6th Earl of Angus, making her the granddaughter of King Henry VII and the niece of King Henry VIII. Margaret was also the mother-in-law of Mary, Queen of Scots, whose second husband was Margaret's son, Henry Stuart, Lord Darnley, and the grandmother of James VI of Scotland/James I of England, and the ill-fated Lady Arbella or Arabella Stuart.
Here are some videos I've done on Margaret Douglas...
Also on this day in Tudor history...
Image: Miniature of Margaret Douglas, Countess of Lennox, by Nicholas Hilliard.