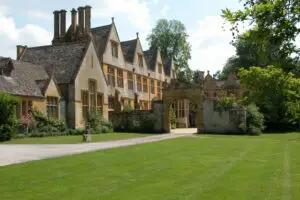 On this day in Tudor history, 8th March 1569, evangelical reformer and Member of Parliament Richard Tracy died at his manor in Stanway, Gloucestershire.
Tracy was the cousin of Protestant martyr James Bainham and his works included the 1543 pamphlet on justification by faith: "Profe and Declaration of thys Proposition: Fayth only iustifieth", which was dedicated to Henry VIII; the 1544 "'A Supplycation to our most Soueraigne Lorde, Kynge Henry the Eyght" and "A Bryef and short Declaracyon made wherebye euery Chrysten Man may knowe what is a Sacrament". In Elizabeth I's reign, he served as a Commissioner of the Peace and Sheriff in Gloucestershire.
Here are a few more facts about this rather outspoken reformer…
Richard Tracy's birthdate is not known, but it's thought to have been before 1501. He was the son of William Tracy of Toddington in Gloucestershire and his wife, Margaret Throckmorton of the famous Throckmortons of Coughton in Warwickshire.
Tracy was educated at Oxford and then London's Inner Temple.
Tracy was married to Barbara Lucy, daughter of Sir Thomas Lucy of Charlecote in Warwickshire. They had six children: Paul, Nathaniel, Samuel, Hester, Susan and Judith – all biblical names.
Tracy was governor of the Inner Temple in 1549 to 1550, and served as a member of Parliament for Wootton Basset on several occasions. From 1537 to 1547 he served on the commission of the peace for Worcester and 1547-8 for Gloucestershire.
Tracy's father, William, died in 1530 and was posthumously convicted of heresy and his body illegally exhumed and burnt, which Tracy was furious about. Tracy's complaint led to the man responsible for the burning, the chancellor of Worcester, being fined £300.
In 1533, Thomas Cromwell granted the manor of Stanway, which belonged to Tewkesbury Abbey, to Tracy. Stanway became the Tracy family home.
During the dissolution of the monasteries, Tracy worked closely with Hugh Latimer, the reformist Bishop of Worcester, and when the Holy Blood relic that claimed to be the blood of Christ was declared to be just duck's blood, Tracy was given custody of it.
Tracy acted as a patron to Bartholomew Traheron, an orphaned young man with Zwinglian views, helping support him through university. He treated Traheron as a son. In thanks, Traheron dedicated his 1543 translation of John of Vigo's "Surgery" to Tracy.
On 8th July 1546, in the reign of Henry VIII, a proclamation by the king and his council ordered the burning of works by Frith, Tyndale, Wickliff, Joy, Roy, Basile, Bale, Barnes, Coverdale, Tourner and Tracy "avoid and abolish such English books as contain pernicious and detestable errors and heresies". The punishment for anyone who concealed their works was a fine and imprisonment.
In May 1551, in Edward VI's reign, the rather outspoken Tracy was imprisoned in the Tower of London for sending a seditious and lewd letter to a friend, who was a member of Parliament. It's thought that it was critical of John Dudley, Duke of Northumberland, who was leading the king's government at the time. Tracy spent 18 months in the Tower.
Tracy stayed in England rather than going into exile during Mary I's reign and submitted on the two occasions he was called before the queen's privy council on religious matters. He also got into trouble in early 1557 for refusing to pay a forced loan
In Elizabeth I's reign, he served on Gloucestershire's commission of the peace from 1559 to his death I 1569, and served as sheriff 1560-61.
Tracy was outspoken again in Elizabeth's reign, writing to the queen's chief advisor, William Cecil, Baron Burghley, criticising the queen's use of images, for example, the crucifix.
He died at his manor of Stanway on 8th March 1569.
Also on this day in Tudor history...
Image: Photo of the present Stanway House by Philip Halling