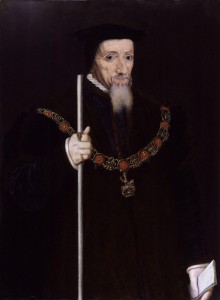 On this day in Tudor history, 10th March 1572, in the reign of Queen Elizabeth I, nobleman and administrator William Paulet, 1st Marquess of Winchester, died at his home Basing House in Hampshire. He was said to be 97 years of age at his death. He was laid to rest in the parish church at Basing on 28th April.
Paulet's offices under Henry VIII included Lord Treasurer, Great Master of the Household and Lord Great Chamberlain, and he also served the king's children, Edward VI, Mary I and Elizabeth I, in their reigns.
Let me share with you some facts about this Tudor marquess…
William Paulet was born in around 1474/1475, or possibly between 1483 to 1488. It's not known for certain. He was the eldest son of soldier Sir John Paulet of Basing in Hampshire and Nunney in Somerset, and his wife, Alice Paulet, John's cousin. She was the daughter of Sir William Paulet of Hinton St George in Somerset.
His early life is obscure, but it's thought that he finished his education at the Inner Temple in London.
In the early 1500s, he married Elizabeth Capell, daughter of Lord Mayor of London, Sir William Capell, and they had at least 8 children together, four sons and four daughters, including John, who became 2nd Marquess of Winchester.
In 1511, 1518 and 1522, Paulet served as sheriff for Hampshire. In 1512 he served on a commission ordered to muster troops for the king's French campaign, and in 1514 he served as a Justice of the Peace for Hampshire.
Paulet appears to have been helped into royal service by Richard Fox, Bishop of Winchester, through whom he came to the notice of Cardinal Thomas Wolsey.
Paulet was knighted in the mid 1520s.
His offices in Henry VIII's reign included Master of the King's Wards, Comptroller of the Household, Treasurer of the Household, Master of the Court of Wards and Liveries, Privy councillor, Lord Chamberlain of the Household, Lord Steward of the Household and Lord President of the Privy Council, Master of the Woods in England and the Marches of Wales. He also served on the commissions which tried Bishop Fisher, Sir Thomas More and the men charged with treason for adultery with Queen Anne Boleyn. He was also one of those involved in the administration regarding the demotion of Catherine of Aragon to dowager princess of Wales in 1533 and the organisation of her burial in 1536, which he attended. He also served as a knight of the shire for Hampshire, sitting in the Reformation Parliament of 1529-1536, and as a judge in the Star Chamber between 1540 and 1542.
In 1539, he was made Baron St John at Whitehall Palace and he was made a Knight of the Garter in 1543.
In 1546, Paulet was one of those who interrogated Thomas Howard, 3rd Duke of Norfolk, who was accused of treason.
The dying King henry VIII named Paulet was one of 16 men who would form a regency council to help his son, Edward, reign in his minority. He bore the second sword at the new king's coronation in February 1547.
In Edward VI's reign, he served as privy councillor, Lord President of the Council, joint governor of King Edward VI, Lord Keeper of the Great Seal, Lord High Steward for the trial of Edward Seymour, Duke of Somerset and former Lord Protector, Lord Lieutenant of Hampshire and the Isle of Wight, and Lord High Treasurer. He became Earl of Wiltshire in 1550 and then Marquess of Winchester when Northumberland took over from Somerset as leader of Edward VI's government.
In the succession crisis of 1553, Paulet objected to Edward VI's devise for the succession, but did sign the letters patent. However, he was one of the privy councillors who chose to proclaim Mary as queen in place of Lady Jane Grey.
In Mary I's reign, he kept his office of Lord High Treasurer and served on the privy council, but was forced to give up his office of master of the wards. He helped the queen with the financial aspects of her reform of the navy and in 1558 was appointed as 'lieutenant about our person and of shires adjoining London'.
Paulet's wife died on Christmas Day 1558 and was laid to rest at Basing in February 1559.
In Elizabeth I's reign, he carried on in his office of Lord Treasurer and served as Speaker of the House of Lords until 1566, when it was considered that his memory and hearing problems were too much. Elizabeth once said of the elderly Marquess "for, by my troth, if my lord treasurer were but a young man, I could find it in my heart to have him for a husband before any man in England".
He retired from court in 1570 and died on 10th March 1572 leaving his son and heir John with debts of £46,000. In his final years, he had also been involved in borrowing money from royal accounts.
Trivia: According to Sir Robert Naunton, when a friend asked him how he'd managed to survive in politics in such turbulent times, Paulet replied "'I was made of the plyable willow, not of the stubborn oak".
Also on this day in Tudor history...
Image: Portrait of William Paulet, 1st Marquess of Winchester, holding the white staff of the office of Lord High Treasurer, NPG.