Thank you to Christine Hartweg, author of Amy Robsart: A Life and its End for writing this guest article on Amy Robsart, wife of Robert Dudley, for us today.
Who was Amy Robsart? And what do we really know about her? And why?
In 1559, the Imperial ambassador at Elizabeth I's court wrote that Robert Dudley, Elizabeth's great favourite, was "married to a beautiful wife" (but of course the ambassador had never seen her). We know for certain, on the other hand, that Amy Robsart was born on 7 June 1532 in Norfolk. Like her future husband, who was almost exactly the same age, she grew up in an "evangelical" (or Protestant) family. It is possible, even likely, that the marriage of Amy and Robert was a love match. They were married on 4 June 1550 in the presence of King Edward VI.
Although some intriguing glimpses about her life survive in chronicles, council letters, ambassadorial reports, account books and two of her own letters, Amy Robsart is chiefly known for her death. She was only 28 when her lifeless body was found at the foot of some stairs in her home at Cumnor, Oxfordshire, on 8 September 1560. The coroner's report, giving the opinion of 15 gentlemen jurors of the neighbourhood who examined the body and the surroundings, concluded that Amy had left "a certain chamber", intending to descend the adjoining stairs and then "fell precipitously down" those stairs "to the very bottom of the same". The jury found that she suffered two head wounds in the process ("one of which was a quarter of a thumb deep and the other two thumbs deep") and also "broke her own neck, on account of which fracture" she "died instantly".
Now, of course, the jurors' conclusion that "the aforesaid Lady Amy in the manner and form aforesaid by misfortune came to her death and not otherwise" has been doubted ever since. Still, this document is probably the most unimpeachable that we have about her death. Equally important, content-wise, are five letters exchanged between Robert Dudley and his distant cousin and steward, Thomas Blount. These letters tell us most of the things we know about Amy's last day. It was a Sunday, the church festival of the Nativity of Mary and the date of Abingdon fair. Amy had risen early and had sent all her servants away to said fair. Apparently, she wanted to be alone, for she also tried to send away Mrs Odingsells, one of the persons living at Cumnor Place, and her people. Mrs Odingsells said she would not go to the fair on a Sunday and asked Amy with whom she would dine when everybody went. Amy said that Mrs Owen, the mother of the house's owner, would have dinner with her, but also that Mrs Odingsells could do as she pleased. Amy was by that point "very angry".
Blount also reported to Robert Dudley that the stories he heard about Amy made him believe that she was "a strange woman of mind", and that according to her maid Amy had prayed daily on her knees, and also, "that she [the maid] hath heard her pray to God to deliver her from desperation".
All this and more we know through Blount's letters to Robert Dudley. The letters only survive as copies in a 16th-century hand; these were likely made in 1567, in connection with an investigation conducted by the privy council. It was not unusual to make copies of important letters; whole collections of letters were copied during the Elizabethan era and survive only as such.
The stairs. They were only eight steps high (this is steep enough to suffer a fatal accident) according to BL Additional MS 48023, a so-called "journal" but more properly a collection of random facts concerning the most recent history of England. The observations in this journal were written down sometime between c.1561–1563 by an anonymous author. What appears from the text is that the author was London-based and was certainly not anywhere near Cumnor Place on 8 September 1560 or later. It is also clear from his journal that he hated the Dudleys, the whole family. He intriguingly mentions, though, that he had to be told who was Robert Dudley when at court about a month after Amy's death; a detail which implies that he cannot have been there very often either, or he would have known this very prominent court figure. The author of the journal wrote that Amy was "the cause of her own death, falling down a pair of stairs, which by report was but eight steps." Even more remarkably, he also wrote that "it was thought that she was slain, for Sir ––––– Verney was there that day". Most remarkably of all, he knew what Amy's killers were talking about.
Finally, the hood! 24 years after her death, a satirical pamphlet claimed that Amy "had the chance to fall from a pair of stairs and so to break her neck, but yet without hurting of her hood that stood upon her neck". This remark from the notorious work of propaganda, Leicester's Commonwealth, must be one of the most successful pseudo-facts of all time, popping up in countless accounts of Amy's story.
Amy Robsart: A Life and Its End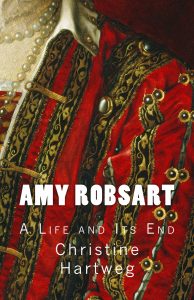 Amy Robsart, the wife of Queen Elizabeth's favourite Robert Dudley, was found dead at the foot of some stairs at Cumnor, Oxfordshire, on 8 September 1560. Did she fall and break her neck, as the coroner's jury concluded? Was she ill? Did she jump? Was she pushed? Was she murdered, as many people suspected – at the time and since – and who were the killers? This vivid biography recounts her life and death in the shadow of the Tudor court, using all available documents, some for the first time. There will also for the first time be an in-depth look at the people around her, like her half-brothers, her host, or her supposed killer. The possible causes of her death, accident, suicide, murder, even illness, are discussed in context of the surviving evidence, modern statistics, and Renaissance culture. While there will never be a definite answer to the mystery of Amy's death, her life can be rescued from the myths that have grown around her over the centuries.
Christine's book on Amy can be purchased as a kindle book or paperback via Amazon.com and Amazon.co.uk.
Christine Hartweg lives in Berlin and was born in South America in 1972. She has researched the Dudley family of Tudor England since 2008 and has advised the BBC and other TV channels. Christine also wrote John Dudley: The Life of Lady Jane Grey's Father-in-Law. Her specialist website is https://allthingsrobertdudley.wordpress.com/