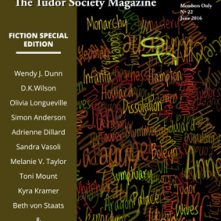 In This month's Tudor Life magazine we have an amazing selection of fiction book excerpts, and also some exclusive short stories written by Beth von Staats and Kyra Kramer. There are all our usual features too, such as a great crossword, our Tudor Kitchen article from Olga Hughes, and Claire Ridgway's Feast Days article.
On top of all that, we finish our two 4-part series with the last part of Tara Ball's insider's guide to the Tower of London and Derek Wilson's last part on the Dudleys.
Packed with 94 pages, it's a feast of Tudor delights!
Includes:
Just beyond living memory - Gareth Russell
Falling Pomegranate Seeds - Wendy J. Dunn
The Queen's Revenge - Olivia Longueville
Lady Rochford - Adrienne Dillard
Phoenix Rising - Hunter S. Jones
Obituary: Simon Anderson
The Devil's Chalice - D.K.Wilson
Truth Ensures - Sandra Vasoli
The Truth of the Line - Melanie V. Taylor
The Colour of Poison - Toni Mount
By all the operations of the orbs - Kyra Kramer
To make or mar - Beth von Staats
My London - Clare Cherry
Crossword
An insider's guide to the Tower of London: Part 4 - Tara Ball
The Dudleys: Part 4 - Derek Wilson
Facts vs Fiction in the Tudor kitchen - Olga Hughes
Thomas Whyhorne: the first English autobiographer - Jane Moulder
The Tudor Rose - book review by Charlie Fenton
High Quality Download (52Mb)
Smaller Download (5.9Mb)