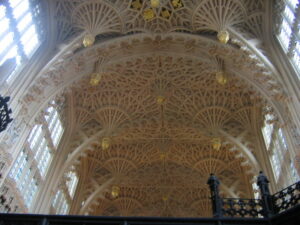 On this day in Tudor history, 24th January 1503, the foundation stone of King Henry VII's chapel, a large Lady Chapel, at Westminster Abbey, was laid.
At the time, Henry VII planned for the chapel to be a shrine to King Henry VI, who was expected to be canonised, but this never happened.
The chapel was completed in 1516, in the reign of Henry VII's son, King Henry VIII, and became the burial place of fifteen kings and queens, including Henry VII and his wife, Elizabeth of York, who have beautiful gilt-bronze effigies, and their grandchildren Edward VI, Elizabeth I and Mary I, and great-granddaughter, Mary, Queen of Scots. Others buried there in the Tudor period include, Lady Margaret Beaufort, Henry VII's mother, and Lady Margaret Douglas, his granddaughter.
It is thought that around £20,000 was spent building the chapel.
As well as some magnificent tombs, the three-aisled chapel of four bays features a stunning pendant fan-vaulted ceiling, 95 statues of saints, carved misericords. 16th century poet and antiquary John Leland called the chapel "the wonder of the world".
Here are links to the Westminster Abbey website to see photos of the chapel and tombs, and to take a virtual tours of the abbey:
Chapel - https://www.westminster-abbey.org/about-the-abbey/history/lady-chapel
Virtual tour - https://www.westminster-abbey.org/learning/virtual-tours