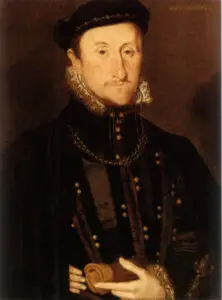 On this day in Tudor history, 23rd January 1570, James Stewart, 1st Earl of Moray, illegitimate son of James V, half-brother of Mary, Queen of Scots, and a man who was acting as regent for his half-nephew, King James VI, was assassinated.
Moray, who was about 38 or 39 years of age at his death, had become regent for his one-year-old half-nephew following the abdication of Mary, Queen of Scots. Mary, who was imprisoned at the time, had been forced to abdicate by the confederate lords following her defeat at Carberry Hill.
Moray was shot in Linlithgow, Scotland, by James Hamilton of Bothwellhaugh. The hit was ordered by the Hamilton family, supporters of Mary, Queen of Scots. Moray was processing down the main street of Linlithgow when Hamilton, who was in home of his uncle, John Hamilton, Archbishop of St Andrews, shot him from a window.
Moray is famous for being the first head of government to be assassinated by a firearm.
Moray was buried at St Giles' Cathedral in Edinburgh, in St Anthony's Aisle, on 14th February 1570, with renowned Protestant reformer, John Knox preaching at his funeral. Moray's daughter, Elizabeth, became 2nd Countess of Moray.