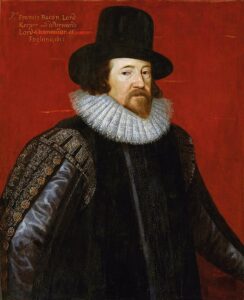 On this day in Tudor history, 22nd January 1561, Francis Bacon, Viscount St Alban, was born at York House in the Strand, London.
Bacon served Elizabeth I as Lord Chancellor and was a politician, philosopher, author and scientist. Bacon is known as "the Father of the Scientific method" and developed an investigative method, the Baconian method, which he put forward in his book Novum Organum in 1620. Some people (Baconians) believe that Francis Bacon was the true author of William Shakespeare's plays.
Let me give you a few interesting facts about this famous Tudor…
Bacon was the second son of Sir Nicholas Bacon, Lord Keeper of the Great Seal, and his second wife, Anne, daughter of humanist Sir Anthony Cooke.
Bacon was educated at home, at Gorhambury, near St Albans in Hertfordshire. Both of his parents had a keen interest in education, with his father being a patron of learning, and his mother being fluent in several languages.
Following his early education at home, Bacon attended Trinity Hall, Cambridge, where he was tutored by John Whitgift, who'd become Archbishop of Canterbury, and he also studied at Gray's Inn, one of London's inns of the court.
In 1576, at just 15 years of age, he was able to travel abroad, accompanying ambassador Sir Amias Paulet to France. He ended up staying there for over two years, learning languages, civil law from a lawyer he stayed with, and statecraft and diplomacy. A wonderful opportunity.
Bacon returned to England in 1579, following his father's death. Unfortunately, as his father's youngest son of his two marriages, and due to the fact that his father had died before organising any provision for him, he did not receive land or an income. He continued his studies at Gray's Inn, and became a lawyer.
Bacon's uncle, William Cecil, Lord Burghley, acted as a patron for Bacon with the queen, and he also received patronage from Sir Francis Walsingham, Sir Christopher Hatton and, later, Robert Devereux, 2nd Earl of Essex, Elizabeth I's favourite.
Bacon started his parliamentary career in 1581, by attending Parliament as the member for Bossiney in Cornwall. During he life, he acted as an MP for several places, including Melcombe Regis, Taunton, Liverpool, Middlesex, St Albans, Cambridge University and Ipswich.
Bacon was sympathetic to Puritanism, attending Puritan sermons and services, sometimes with his mother, and, in 1584, Bacon was one of the authors of a tract attacking Catholics and supporting Puritanism.
He supported the execution of Mary, Queen of Scots, while acting as MP for Taunton at Parliament in late 1586 and 1587.
He lost out on the office of attorney-general to Edward Coke, becoming one of Elizabeth I's trusted legal counsel instead. Coke won against Bacon once more when Bacon tried to woo widow Lady Elizabeth Hatton, who chose to marry Coke.
Bacon was arrested for debt in 1598.
His friendship with the Earl of Essex led to him trying to help him but in the end, he had to choose between his friend and the queen. In September 1599, following the Earl of Essex's return from Ireland without the queen's permission. Bacon sought to reconcile queen and favourite. When the queen dined with Bacon, he presented her with "a sonnet directly tending and alluding to draw on her Majesty's reconcilement to my Lord". However, it was the Star Chamber that dealt with Essex, rather than the queen. In 1600, when Essex was tried at York House, Bacon acted for the queen as one of her counsel. Essex ended up being put under house arrest and dismissed from his offices. Following the earl's rebellion in 1601, Bacon was appointed to prosecute his friend and his followers. Essex, of course, ended up being executed. Bacon was also appointed to write an official record of the proceedings.
Bacon was knighted in 1603, following the accession of James I, and in 1604, he attempted to explain his role in Essex's end in his tract "Apology in Certain Imputations Concerning the Late Earl of Essex", in which he put forward the argument that his first priority always had to be to the monarch and public service.
In James I's reign, Bacon was very active in Parliament, defending the king in debates during his first parliament, arguing "The King's Sovereignty and the Liberty of Parliament are as the two elements and principles of this estate … [which] do not cross or destroy the one the other, but they strengthen and maintain the one the other".
Bacon didn't get married until 1606 when he was 45. He chose 14-year-old Alice Barnham, daughter of alderman Benedict Barnham, as his wife. Bacon's secretary and chaplain described the marriage as one of "much conjugal love and respect", although she went on to have an extra-marital affair with Sir John Underhill, who she married shortly after Bacon's death.
In 1607, Bacon was finally appointed solicitor general and then, in 1608, he became clerk of the Star Chamber. He was also appointed as Prince Henry's personal lawyer. In 1613, he finally became attorney-general. As well as being involved in the king's finances and relations with parliament, he also had to handle the growing popularity of duelling. He published a proclamation and treatise against it, A Publication of His Majesties Edict, and Severe Censure against Private Combats and Combatants, in 1614.
In 1616, Bacon was chief prosecutor in the trial of the Earl and Countess of Somerset for the murder of Sir Thomas Overbury. They were found guilty and sentenced to death, but their sentence was commuted to imprisonment.
Bacon was close to James I's favourite, George Villiers, Earl of Buckingham.
In 1616, Bacon was able to get his revenge on Edward Coke, who had fallen out with the king. With Bacon's help, Coke was removed from the king's bench and privy council. Another opportunity for revenge arose when, in 1617, Coke's wife approached Bacon to help stop her husband from marrying their daughter off to Sir John Villiers, brother of Buckingham, and Bacon wrote to the king. Unfortunately, the king and Buckingham were furious with him.
In 1616, Bacon was appointed to James' privy council, and in 1617 he was made Lord Keeper. The residence of the Lord Keeper was York House, the very house he'd been born in.
Bacon was made Lord Chancellor in 1618 and then Baron Verulam of Verulam. In 1621, he was made Viscount St Alban.
As one of the most important lawyers in England, he handled many cases, including that of Sir Walter Ralegh in 1618.
In 1621, Bacon fell dramatically from power. Parliament began impeachment proceedings against him, listing 28 cases where he or his servants had improperly received gifts or loans, i.e. bribes. Apart from an appeal to the king, Bacon did nothing to defend himself and submitted to Parliament, confessing to being guilty of corruption. The punishment was a fine and imprisonment, but the fine of £40,000 was never collected and he was only imprisoned for 3 days. However, he was banished from court, barred from any state office and forbidden to sit in Parliament. Bacon's biographer, Markku Peltonen, points out that Bacon was actually a scapegoat for Parliament's grievances regarding patents and monopolies and his old enemy Sir Edward Coke was involved.
A debt-ridden Bacon ended up having to sell the lease of York House.
In December 1625, Bacon made his will, writing "Whatsoever I have given, granted, confirmed, or appointed to my wife, in the former part of this will, I do now, for just and great causes, utterly revoke and make void, and leave her to her right only." This must have been due to her romance with Sir John Underhill. Bacon died on 9th April 1626 at Highgate. His wife married Underhill less than 2 weeks later. Bacon was laid to rest at St Michael's Church, St Albans. It is thought that he died of pneumonia.
Bacon spent £9-10,000 building Verulam House. Sadly, just forty years after his death, it had fallen into disrepair and was sold for just £400.
Bacon put forward an investigative method, the Baconian Method or Scientific Method, an example of inductive reasoning, in his 1620 work "Novum Organum".
Bacon is seen as the creator of the theory of empiricism, which argues that knowledge comes only from, or primarily from, sensory experience.
Bacon was a prolific writer, writing works on religion, science, medicine, law, judicial reform and philosophy. His most significant work is "Instauratio Magna", or the Great Instauration, comprising the Advancement of Learning and Novum Organum.
His other works include "Valerius Terminus: of the Interpretation of Nature", "History of Life and Death" (a treatise on medicine), "New Atlantis" (a Utopian work), "The Wisdom of the Ancients", "Masculus Partus Temporum" (The Masculine Birth of Time", a collection of religious meditations and a collection of prayers, as well as numerous essays and a work in honour of the late queen, In felicem memoriam Reginae Elizabethae'.
Baconians believe that Bacon wrote some or all of William Shakespeare's plays, claiming that there are ciphers in the works proving him to be the true author.
Famous 20th century author, Daphne du Maurier wrote a biography of Sir Francis Bacon and another book on him and his brother, Anthony.
And that was just an overview of Bacon's life! You really could write a book or two on that man!
Image: Portrait by Paul van Somer
Here are videos on his parents and also his brother...