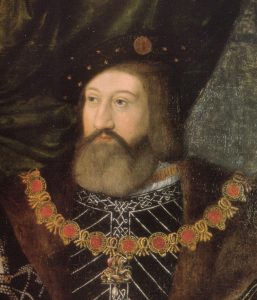 On 14th January 1515, in King Henry VIII's reign, Charles Brandon, Duke of Suffolk, was sent to France to bring back the king's sister, Mary Tudor, Queen of France.
Eighteen-year-old Mary had married fifty-two-year-old King Louis XII on 9th October 1514, but the marriage had been short-lived as Louis died on 1st January 1515.
Before marrying Louis, Mary had made her brother promise that if the French king died she could marry a man of her choosing. That man ended up being Suffolk, Henry VIII's best friend, and the very man sent to fetch her.
Following Louis' death, Mary reminded her brother of his promise to her and threatened to enter a convent if he went back on the deal they'd made. Suffolk, who was about thirty, married Mary secretly in France in February 1515 and then again in a more formal ceremony in March 1515. See my video below on their secret wedding and the theories regarding the date of it.
Francis I, the new French king, was furious with the couple for marrying secretly, going as far as saying to Suffolk that he should behead him, and Mary's brother, Henry VIII was furious too. However, he and Catherine of Aragon attended the couple's official marriage at Greenwich Palace on 13th May 1515, and he did eventually forgive his best friend and favourite sister on 13th May 1515. His forgiveness, though, was helped by Mary surrendering things like jewels, plate, and half her dowry to him!