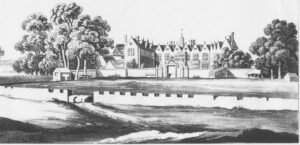 On 13th January 1593, in the reign of Queen Elizabeth I, Sir Henry Neville died. He was buried at Waltham St Lawrence in Berkshire.
Sir Henry Neville was a groom of Henry VIII's Privy Chamber and a gentleman of Edward VI's Privy chamber.
He was the second son of Sir Edward Neville, who was beheaded in December 1538 for allegedly conspiring with Cardinal Reginald Pole. Neville was also a godson of King Henry VIII, and his father's fall did not adversely affect him, with him being was chosen to witness the king's will.
Neville spent time abroad in exile as a Protestant during Mary I's reign, but returned in Elizabeth's reign.
Neville was married three times, first to Winifred Losse, and then, after her death, to Elizabeth Gresham, granddaughter of Lord Mayor of London, Sir Richard Gresham, and then, after her death, to Elizabeth Bacon, daughter of Sir Nicholas Bacon. He had five children from his second marriage: Henry, Edward, Francis, William, and Katherine.
His seat, Billingbear House (pictured) was given to him by King Edward VI and had previously been owned by the Bishop of Winchester.