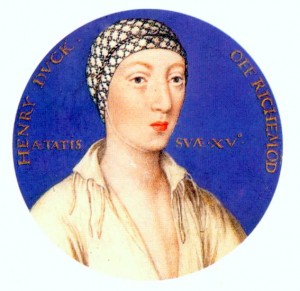 Thank you to Sarah Bryson for writing this article on Henry Fitzroy, 1st Duke of Richmond and Somerset.
Henry Fitzroy was the illegitimate child of Henry VIII, the second Tudor monarch, with his mistress Elizabeth Blount. In 1512, when Henry VIII was approximately twenty-one years of age a beautiful young woman came to court. Her name was Elizabeth "Bessie" Blount and at that time she had no idea the future that lay ahead of her. While the Blounts were not members of nobility, they were members of the gentry who through opportunity, connections and talent had earned a place at court. It is believed that it was William Blount, Lord Mountjoy, Queen Katherine of Aragon's chamberlain, who acquired a place at court for Elizabeth Blount. Sometime between 1513 - 1514, Bessie became a maid of honour to the Queen. As a maid of honour, Bessie would have had to have been beautiful and well-mannered, with all the accomplishments suitable for a young lady of the time. She'd need to be able to play a musical instrument, to sing and dance, to sew and embroider, to know her place and, most importantly, be devout to the Catholic faith. It is reported that Bessie was a very talented singer and dancer, and it may have been these talents which attracted the young Henry VIII.
Bessie is first linked to Henry VIII during the Twelfth Night celebrations in 1514 when the King chose her to be his dancing partner. At this time, Bessie was thirteen years of age and the King around twenty-three. While it may seem like an extreme age difference, it was not uncommon at the English Court for a man to partake in courtly love with a younger woman. This would have consisted of writing her love notes and giving her tokens of love and admiration. Bessie was considered to be extremely beautiful, eloquent and gracious, and Henry was tall, handsome and athletic, and the match between the pair became well-known.
When exactly the pair became intimate is unknown, and when the relationship ended is also speculated upon. Bessie conceived late September 1518 and in early 1519 she left court to stay at the Priory of St Lawrence in Blackmore, Essex. On 15 June 1519, Bessie Blount gave birth to a healthy young boy who was baptised Henry Fitzroy, after his father the King. The name Fitzroy is a Norman-French surname meaning "son of the King", and it was common for illegitimate children of the King to receive this name. Henry VIII publicly acknowledged the boy as his own and his godfather was Cardinal Thomas Wolsey, who was the right hand man of the King.
From birth, little Henry Fitzroy's prospects were on the rise. His care was overseen by Cardinal Wolsey and on 7 June 1525, just before his sixth birthday, the little boy was elected as a Knight of the Garter, the most prestigious order in England. Then on 18 June 1525, at Bridewell Palace, he was created Earl of Nottingham, as well as being given the double dukedom of Richmond and Somerset. During the creation, the young boy came out and knelt before the King and once he was created Duke of Richmond and Somerset Fitzroy he took his place on the dais beside his father. It should be noted that at this time there were only two other dukes in England, the Duke of Norfolk and the King's brother in law, the Duke of Suffolk. By giving Henry Fitzroy a double Dukedom, and then having Fitzroy on the dais beside him, Henry VIII was elevating his six-year-old son to the highest peerage in the country and ensuring that everyone was aware of this. As Earl of Nottingham and Duke of Richmond and Somerset, the six year-old boy was given lands and revenues around £4845, a staggering sum of money at the time.
Fitzroy was also created Warden General of the Northern Marches on 22 June 1525. Also, in 1525, Fitzroy was granted his own household at Durham House, in the Strand, and Baynard's Castle. Over the next few years, Fitzroy was created Lord Admiral of England, Lord President of the Council of the North, Lord Lieutenant of Ireland, Chamberlain of Chester and North Wales, Warden of the Cinque Ports and Constable of Dover Castle, and Keeper of the City and Castle of Carlisle, although obviously someone else would have acted in his place.
From 28 August 1525 to 16 June 1529 Fitzroy lived principally in Yorkshire, at Sheriff Hutton or at Pontefract. He was given his own household of 245 servants including grooms, ushers, cooks, bakers, stablemen, yeomen and chaplains. It has been reported that the bill of wages in 1525 for Fitzroy's servants (including food and clothing) came to a staggering £3105 9s 8d. Fitzroy was also dressed in lavish clothing and given a classical education, including learning Latin, Greek, French and music, although just like his father he preferred outdoor sports. On the 9 August 1529, at the age of ten, young Fitzroy was summoned to parliament, which he attended regularly.
After Thomas Wolsey's downfall in 1529, care of the young Henry Fitzroy was given to Thomas Howard, 3rd Duke of Norfolk. From this time, Fitzroy was an active member of court. In October 1532, he accompanied his father and Anne Boleyn to Calais for the King's meeting with King Francis I of France. It was arranged between Henry VIII and Francis I that Fitzroy should stay at the French court for a time and Fitzroy was accepted as a member of the King's Privy Chamber and lodged with the Dauphin, the French King's son. A little under a year later Fitzroy was recalled to England for his marriage.
It is possible that marriage discussions between Fitzroy and the Duke of Norfolk's daughter, Mary Howard, began shortly after the care of Fitzroy was taken over by the Duke of Norfolk. The couple finally married on the 26 November 1533, although due to their young ages (both were only fourteen) the marriage was never consummated. There was talk that Henry VIII initially considered marrying Fitzroy to Mary, the King's daughter by Katherine of Aragon and Fitzroy's half-sister, although if there was any truth in this remains unknown.
Despite his young age, Fitzroy continued to hold a number of important positions, including being created Lieutenant of the Order of the Garter on 17 May 1534, and he also carried out a number of important duties, such as holding a feast in honour of the French admiral in November 1534 and in February 1535 entertaining the imperial ambassador, Eustace Chapuys. He was also present when Anne Boleyn, second wife of Henry VIII, was executed at the Tower of London on 19 May 1536.
It appears that Fitzroy was close to his father and Henry VIII referred to his son as 'my worldly jewel'. After Anne Boleyn was arrested and taken to the Tower of London, Fitzroy went to bid his father goodnight and gain his blessing. A weeping Henry VIII pulled his son into his arms and told him that he and his half-sister Mary were lucky to be alive because Anne had tried to poison them both. There is no evidence to suggest that Anne did try to poison Mary or Fitzroy, although the very idea of it grievously upset the King. The pair also exchanged gifts and letters.
Tragically, Fitzroy was only to live a little over two months after Anne Boleyn's execution. He died quite suddenly at St James's Palace on 22/23rd July 1536. There is debate as to what exactly killed the young man of just seventeen years of age. It is believed that Fitzroy died of tuberculosis, although another suggestion put forward has been pneumonic plague. The young man's death was quite a shock to the King and others. When he attended the opening of Parliament on 8 June 1536 Fitzroy did not show any signs of illness. The first signs of any illness was recorded on 8 July and just two weeks later the young man was dead.
Even though he was the illegitimate son of King Henry VIII, and also Earl of Nottingham and Duke of Richmond and Somerset, Fitzroy did not receive a public or lavish funeral. Instead, arrangements for his funeral were entrusted to the Duke of Norfolk. Fitzroy's coffin was hidden under straw and taken by cart to Thetford Priory, Norfolk, where he was buried. When Henry VIII dissolved the monasteries, Fitzroy's coffin was moved to St Michael's Church, Framlingham, Suffolk. It is interesting to note that several days after Fitzroy's funeral, Henry VIII wrote to the Duke of Norfolk angrily asking why his son had not received a more honourable and lavish funeral.
There has been some debate regarding the prospect of Henry Fitzroy becoming Henry VIII's heir. By 1525, when Fitzroy was invested with such lavish titles and position, Henry VIII had only one legitimate living child, a daughter named Mary. It has been proposed that Fitzroy was given such titles and position to smooth his path to becoming legitimized and being named Henry VIII's heir. Whether Henry VIII did have any intention of this, though, remains unknown.
Tudor Society members can enjoy a Claire Chats video talk on Fitzroy and his half-sister (or sister perhaps!), Elizabeth Tailboys - click here.
Sources
Hart, Kelly (2009) The Mistresses of Henry VIII, The History Press, Gloucestershire.
Jones, Philippa (2010) The Other Tudors: Henry VIII's Mistresses and Bastards, Metro Books, New York.
Licence, Amy (2014) The Six Wives & Many Mistresses of Henry VIII: The Women's Stories, Amberley Publishing, Gloucestershire.
Murphy, Beverley. "Fitzroy, Henry, duke of Richmond and Somerset (1519–1536)", Oxford Dictionary of National Biography, Oxford University Press, viewed 23 May 2015, http://www.oxforddnb.com/index.jsp.
Meyer, G.J. (2010) The Tudors: The Complete Story of England's Most Notorious Dynasty, Random House Inc., New York.
Weir, Alison (2008) Henry VIII: King & Court, Vintage Books, London.