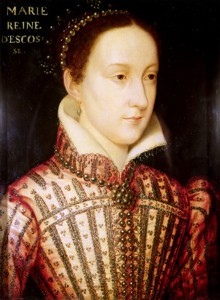 Today is the anniversary of the birth of Mary, Queen of Scots, on 8th December 1542. She was the daughter of James V of Scotland and his second wife, Marie de Guise, and the granddaughter of Margaret Tudor (Henry VIII's sister) and James IV of Scotland.
One of the mottos associated with Mary, Queen of Scots, is "En ma Fin gît mon Commencement" , or "In my End is my Beginning", and she is more famous for her brutal end at the hands of the axeman on 8th February 1587.
You can read more about her on our Mary, Queen of Scots bio page and browse our archives on her here.
Mary is also covered in historian Linda Porter's expert talk on Three Tudor Queens.
I'm looking forward to seeing the new movie about Mary and Elizabeth I, are you? Here's the trailer:
In July 2019, the Tudor Society, in association with British History Tours, is doing the Executed Queens Tour and we're visiting two places associated with Mary: Tutbury Castle and Sheffield Manor Lodge. You can click here to find out more.